Eight places in Pittsburgh offering smashburgers
It starts as a meatball - then gets SMASHED into a hot griddle. Here are the local burger joints where you can order a classic smashburger.
The smashburger. What is it? Well, it's a burger, but not just any burger.
"A smashburger has to start with exceptional beef," says Fiore Moletz of Burgh'ers Brewing, "and it starts as a meatball." That meatball is smashed into a hot griddle. It's thin, it cooks relatively quickly, and the heat seals in the juices. "With a smashburger, you can achieve the Maillard reaction," says Moletz, referring to the distinctive flavor that results when food browns due to a chemical reaction involving amino acids and sugars. And that chemical reaction tastes good!
In a sense, the smashburger has been around for a while in the form of fast food and diner burgers. Some trace its origins back decades to the Dairy Cheer chain in Ashland, Kentucky, which used the trademark, "Home of the Smashburger." More recently, the term "smashburger" was codified in the public consciousness in 2007 when Rick Schaden and Tom Ryan founded Smashburger, a chain of fast-casual hamburger joints. You may have tasted Ryan's previous work in the Pizza Hut stuffed-crust pizza or in various McDonald's products. Schaden, along with his father, is credited for taking Quizno's mainstream.
The duo bought a burger restaurant in Denver to begin experiments and within ten years had nearly 400 company-owned or franchised stores, some heavy-duty corporate investment, and a global reach partly due to their majority shareholder, the megabucks multinational Jollibee Foods Corporation.
An official Smashburger did open in Monroeville, Pennsylvania, in late 2014, but temporarily closed when a stolen school bus was driven into the adjacent The Vitamin Shoppe, damaging a shared wall in Smashburger's kitchen. The bus thief was never identified and after a May 2016 reopening, the only official Smashburger near Pittsburgh eventually shuttered for good, amid an overall downturn for chains like Smashburger and fellow burger smashers Five Guys and NYC-based Shake Shack.
This void left a hunger for high quality smashed burgers, and a number of Pittsburgh-area restaurants met the challenge, putting their own spins on this burger concept.
Burgh'ers
Fiore Moletz opened the first Burgh'ers in Zelienople 10 years ago. After opening, he noticed a crew of senior citizens making repeat visits, raving about the food. These thin burger patties, both juicy and crispy, took them back to their youth when they would hang out at diners and drive-thrus. "That fast food-style burger that we have all grown to love is now available and made with fresh, local ingredients," explains Moletz.
Burgh'ers' menu boasts 10 different smashed burgers, each one incorporating local sourcing like beef from Wild Purveyors, tomatoes from Yarnick's Farm, and rosemary from Kretschmann Organic Farm. The "Polish Hill" burger uses pierogies from Pierogies Plus in McKees Rocks. The "Squirrel Hill" burger takes inspiration from a Reuben. I had a "Shadyside" — swiss cheese, bacon, caramelized onion, sautéed mushroom, and mayo. There is a clarity to each flavor, and the whole thing is damn good.
If one burger doesn't fill you up, they also have sides. The Mac 'n Cheese uses buttermilk, giving it a little tanginess, a little funk, and the chile has a nice pop from thinly sliced jalapeno peppers. The Lawrenceville location introduced a craft beer operation, overseen by brewmaster Neil Glausier. I can attest that the George Romero-inspired "Dark Half" lager nicely balanced the richness of the "Shadyside" burger.
Pittsburgh Sandwich Society
From the window of a food truck — either parked at their lot on 43rd St. in Lawrenceville or found somewhere around the city — Pittsburgh Sandwich Society offers a smashburger that riffs on the classic California chain, In-N-Out Burger. Their Pittsburgh-ized "In-n-aht Burger" includes two smashed beef patties with a luscious helping of American cheese, pickles, tomato, and spring mix. Onion jam and "animal sauce" keep things interesting. Bonus: my order slid down an experimental delivery shoot, making this dining experience adequately socially-distanced.
Cinderlands Warehouse
Twisting the formula, Cinderlands offers the Smashed Kobe Burger, which centers Kobe beef as the star of the show. Carmelized onions and the option to add either Pork Belly ($2) or a Sunny Side Egg ($1) allow for an elevated take on the smashburger.
https://www.instagram.com/p/CBleNR4DY05/
Hotel Monaco's Biergarten
If dining with a view is your thing, Biergarten, the ninth floor outdoor bar at Hotel Monaco downtown, offers a wagyu beef smashburger. The onions are caramelized, the cheese is American, and the potato roll is Martin's. Secrets abound in their "magic spice" and "secret sauce." Come for the smashburger, stay for the views of Pittsburgh's underrated downtown architecture.
https://www.instagram.com/p/CBT0xJ5D4pZ/
Gab & Eat
If you are looking for a neighborhood diner, you may want to venture to Carnegie. For the last 30 some years, Gab & Eat has been smashing Black Angus burgers into their griddle, offering fun options like the "New York Burger," which includes salami, swiss cheese, and dark mustard and the "Western Burger," which includes ham and caramelized peppers and onions. "I think what makes them taste so good is the grill," says co-owner Karie Goedert. The restaurant, which is often packed during non-pandemic times, is offering reduced capacity seating, take out, and delivery.
https://www.instagram.com/p/BfReEBmhiQm/
Moonlit Burgers
This pop-up restaurant is a new entrant into Pittsburgh's COVID-impacted dining scene. Sometimes stationed outside of Millie's Homemade Ice Cream in Shadyside, Mike McCoy serves a double patty black angus beef smashburger with the usual fare — American cheese, pickles, and onion. The secret is the "moon sauce," a delicious concoction of gojuchang–the fermented Korean condiment made from red chili powder — the yolk-leaning Duke's mayonnaise, Dijon mustard, Sriracha, white vinegar, sesame, and a few pickles.
https://www.instagram.com/p/CDucbu8Drlz/
Fl. 2
If you're craving a smashburger but your take-out dinner date requires a half rotisserie chicken or bone-in new york strip, Fl. 2, the downtown restaurant at Fairmont Pittsburgh, might be your answer. Their sole smashburger is a double patty affair with American cheese and secret sauce.
https://www.instagram.com/p/B1M-QwEh1Vk/
Buffalo Wild Wings
Outside of Pittsburgh City, you can find a smashburger at one of the nearby Buffalo Wild Wings chains. The Cheese Curd Bacon Burger, Avocado Bacon Burger, and Smoked Brisket Burger are a few of the "hand-smashed" burgers that they offer.
https://www.instagram.com/p/CEaaH_1hMNX/
We tried Chicago Dogs, Spicy Chili Dogs, Buffalo Dogs, Reuben Dogs, and more across the Orlando area to find the best hot diggity dogs.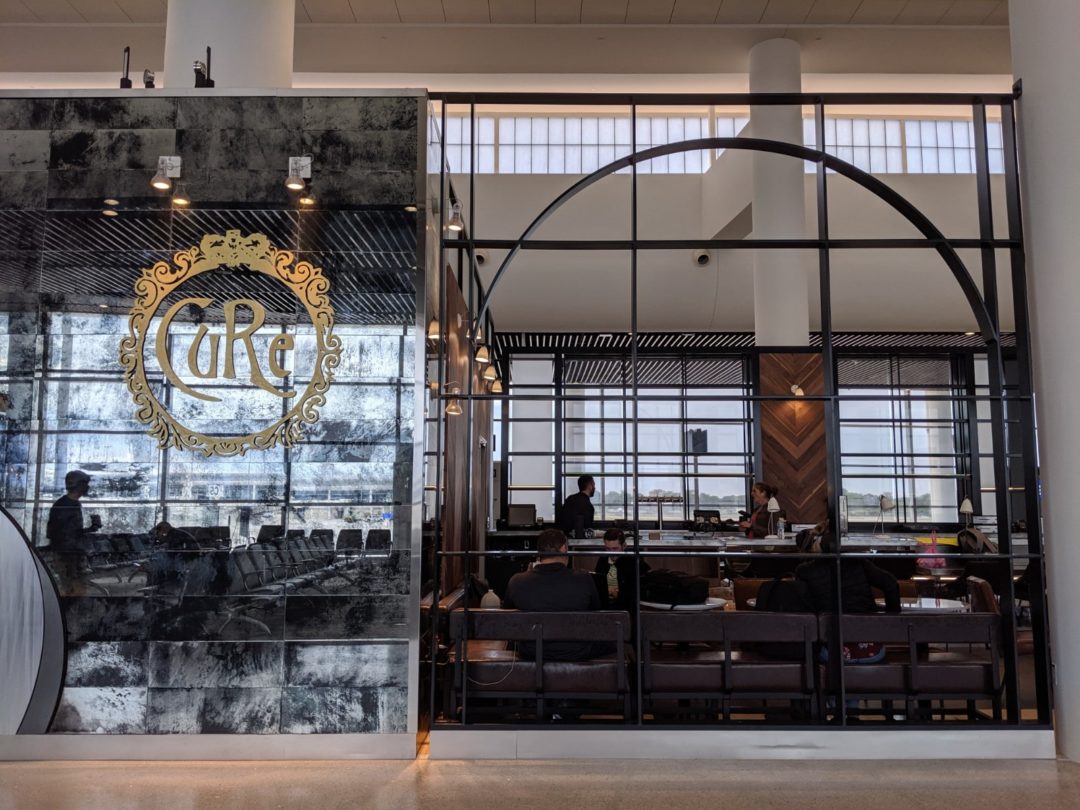 Time. Most of us don't have a lot of that. Even less so when we're rushing to make a flight. There are still plenty of tasty options for the less leisurely travelers among us, though it helps to know where to find them.
Let's talk international food from Korea, Thailand, India, Uzbekistan and more! This isn't your typical takeout box.
Homestead's Golden Age Beer Company is in business to shine a light on the time-honored brews.