It's the elephant in the room, so we'll just say it before you do: 🗣Jazz Fest is here!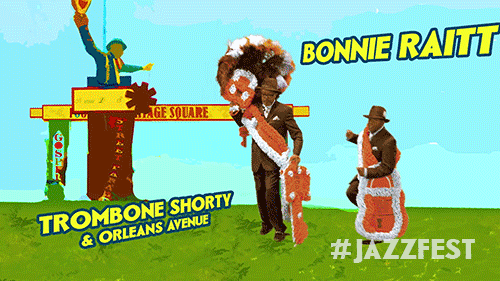 But even if you're not into being corralled into one area at the Fair Grounds, there's still lots to get into this weekend.
Here are our weekend picks:
Fri. April 26, 2019
What can @DWoltering say bad about me?? I'm a sweetheart!! Find out at my Roast benefitting @lighthouse_nola this Friday. Get tickets which includes food and drinks. #whatiwasthinking #rpstrong https://t.co/ZngC8Szy2y pic.twitter.com/Gs6uy77PNW

— Carl C Arredondo III (@carl_arredondo) April 22, 2019

What: Roast of Carl Arredondo
When: 6-9 p.m.
Where: Mannings Restaurant
Price: $45
Ever wanted to shake your fist at the weatherman for telling you a bad forecast? Well, here's you chance for payback. Longtime WWL-TV anchorman Eric Paulsen is hosting The Roast of Carl Arrendondo, where the jokes are all on the beloved local meteorologist. It's all for a good cause, because proceeds go to the Lighthouse for the Blind. Click here for more information.
What: Brass-A-Holics Free Show
When: 10 p.m. – 3 a.m.
Where: The Maison
Price: FREE
Can't get into Jazz Fest? Want to see one of the artists without paying the ticket price? Check out this late-night spot for a free show from the Brass-A-Holics. Click here for more information.
Jazz Fest Highlights: PJ Morton | Santana | Aloe Blacc | The Revivalists | Free Agents Brass Band | Tab Benoit
Sat. April 27, 2019
What: Tombs by Twilight
When: 7 – 9 p.m.
Where: St. Louis Cemetery No. 1
Price: $50
St. Louis #1 is usually closed off except to tour groups, but this takes it a step further by taking you there at night. Guided by Save Our Cemeteries, the tour includes a drink and appetizer at the Batch Lounge afterwards. Ghost sightings not guaranteed. Click here for more information.
What: City Park Sculpture Garden Tour
When: Noon
Where: Besthoff Sculpture Garden
Price: FREE
This beautiful space is gorgeous is wander alone, but this tour provides background into the works and artists who are featured in the garden. Click here for more information.
Jazz Fest Highlights: Preservation Hall Jazz Band | Katy Perry | Leon Bridges | Better Than Ezra | Boz Scaggs | Rebirth Brass Band
Sun. April 28, 2019
What: Sunday Swim Society Launch Party
When: 2 – 6 p.m.
Where: NOPSI Hotel
Price: $20
It's getting warm in the city! The pool at the NOPSI Hotel is opening to the public with a lunch party. Click here for more information.
Jazz Fest Highlights: Ellis Marsalis Family Tribute | Big Chief Monk Boudreaux & the Golden Eagles | Bonnie Raitt | Irma Thomas | Treme Brass Band | Flow Tribe