Fine, I'll admit it: I live in the East, and I don't go to the Westbank. In fact, I cringe at the thought of the Westbank. So when I was assigned a story in Algiers Point, I avoided it like the plague for MONTHS.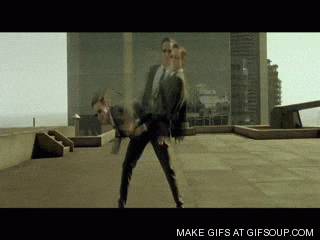 Man, I wish I would've come here sooner. In fact, if there are any bachelors in Algiers Point, call me. It was that great.
The homes reminded me of Uptown, but the people were so down to Earth, and you could feel the spirit of this close-knit neighborhood in every conversation.
Morning
I started the morning on the hunt for Tout De Suite restaurant, because all the reviews say that is the must-do brunch place. But, as with any story assignment, SURPRISE! It was closed. I walked back down to my car and noticed I had parked in front of another little neighborhood joint, One Stone Cafe.
I'm not one to do anything while hungry, so this looked like breakfast to me. I begrudgingly walked in, took a look at the menu and ordered the To The Point, your standard eggs, bacon, grits and toast kind of fare. I pouted to find out the baked eggs couldn't be scrambled, but the barista said she'd make them hard for me.
This is the part where I should have known my attitude was terrible. The cafe sold glitter cosmetics (!!!) and there's a Monkey Room, with the entrance announced by a huge hanging monkey statue. What's a monkey room, you ask? AN ARCADE. IN A CAFE.
The eggs, baked hard, were really, really good. I explained my story assignment to the barista, who gave me a few pointers on where to go. IPad in hand, walking shoes on and less hangry, I started on my way.
About a three-block walk away from the cafe is a towering pink building that looks like the highlight of some old Hollywood black-and-white film.
It's the home of Rosetree Blown Glass Studio, which is in a building that formerly housed a movie theater. In fact, Rosetree's sign is a movie marquee.
Owner Mark Rosenbaum opened up the first privately-owned glassblowing studio in the state, and it's one of the largest handblown glass studios in the area. You can take a virtual tour of the ever-changing studio space here, but his designs are so much more detailed in person.
While Rosenbaum wasn't in the studio yet, two of his apprentices were, and a window in the studio provides a clear view into their workspace without visitors feeling any of the heat. The whole process is fascinating to watch, and employees gladly explain what's happening in front of them.
Hello new date spot: Rosetree even offers glassblowing classes. Most glass studios close during the summer months because of the sweltering heat but Rosetree is one of the few open year-round.
Rosetree Blown Glass Studio and Gallery
Getting there
446 Vallette St, New Orleans, LA 70114, USA
Hours
Mon-Fri 10am–5pm
Sat-Sun Closed
Just two blocks away from Rosetree is Calliope Puppet Studio. Yes, you read correctly: puppets. Puppeteer Karen Konnerth handcrafts most of the puppets in her studio, which also consists of a theater that she changes for each show.
Konnerth travels the world, instructing teachers on how to incorporate puppets into their daily lessons, such as history and social studies. She's a teacher herself, at St. Mary's Academy.
Step into her studio, and you can see the influences of Konnerth's travels on her puppets and shows, which include puppets from different cultures.
"My shows always have audience interaction," she said. "It's just a way to carry it a step further."
Periodically, Konnerth hosts puppet shows, which are announced on her Facebook page here.
Pit Stop: Faubourg Fresh Market
By this point, all my walking had made me work up a thirst. On my way back toward One Stone Cafe, I stopped at the neighborhood grocery, Faubourg Fresh Market.
The store really brought home the neighborhood aspect of the area. There were local products, such as Honey Island Swamp honey and Hola Nola tortillas. There was fresh produce and a pretty good wine selection for a place some would consider a corner store.
The owner, Nick, was at the counter and rang up my items while telling me about the grocery's role in the neighborhood.
Would you make all of your groceries here? Probably not, but for that one thing you forgot to grab for dinner, this is the place.
Getting there
541 Bermuda St, New Orleans, LA 70114, USA
Hours
Mon-Fri 10am–7pm
Sat 9am–7pm
Sun 9am–1pm
Afternoon
Algiers Ferry Landing
So, honestly, this was the only place I knew about on this trip before actually arriving in Algiers. The ferry is a convenient way to get from Downtown to Algiers, especially if there's traffic on the bridge.
Since tourists tend to venture on this side of the river, once you exit the ferry, there's a big sign telling you the different places you can visit. They must have known I was coming.
Walking along the levee is definitely relaxing. The view of the city from the other side of the river was gorgeous and a different vantage point from the usual.
This place has a "Cheers"-like atmosphere, and while it was obvious that NOBODY knew my name when I walked in, the whole staff made sure to point out the menus, tell me where I could sit and make me feel welcome.
I had fried catfish fingers, and I loooove thin fried catfish but, sometimes, when the fish is paper thin, it feels like you're paying for breading and tartar sauce. This fish was JUST RIGHT. Not too thin, not too thick, right in the pocket.
Getting there
133 Delaronde St, New Orleans, LA 70114, USA
Hours
Mon-Wed 10am–10pm
Thu 10am–11pm
Fri 9am–11pm
Sat 10am–11pm
Sun 10am–10pm
Folk Art Zone and Blues Museum
To get to this one, I had to walk back to the car and drive for a few minutes. When I say a few, I mean, like three. Folk Art Zone is just outside of what traditionalists call the Point, but if you've walked this far, you could definitely still do it.
Upon first glance, Folk Art Zone is a curious place. It's a home that's been redone to be a museum. It's run by curator and folk artist Charles Gillam, whose self-taught mixed media and woodcarving skills have landed him in House of Blues motifs across the country.
The museum doesn't look like much at first, but when Gillam opened the door, I was transported to another world.
This is Gillam opening the museum door for me. I wasn't ready. pic.twitter.com/Z1yHThFvQs

— April, The Cup Lady (@MStaes) April 9, 2019

In the front of the museum are busts of jazz and blues greats, carved in concrete and attached to the walls. Yes, the WALLS. All I could think of is that no storm would ever be able to take away Gillam's work in this room. The back of the museum is dedicated to notable folk artists, including Dr. Bob, Mr. Imagination and George Rodrigue. There's even a piece from Gillam himself dedicated to 9/11, made from a piece of driftwood he found a block away from his home in the Mississippi River. The wood forks off into two towers and depicts the events from that day in New York.
The amount of art history in this redone shotgun house would give any professionally curated museum a run for its money.
Algiers Folk Art zone and blues museum
Getting there
207 Leboeuf St, New Orleans, LA 70114, USA
Honorable Mention/Things I need to come back and do
Yes, I'm coming back to Algiers Point. Who would've thought by the end of this article I'd be a changed woman.
Everyone I talked to had great reviews about this place, but my stomach couldn't handle pizza AND fried fish for lunch.
Getting there
141 Delaronde St, New Orleans, LA 70114, USA
Hours
Mon-Tue Closed
Wed-Sat 4–9pm
Sun Closed
This English-themed dive bar has a really interesting entrance. You've got to walk through a replica of a phone booth, just to get in the bar.
Crown & Anchor English Pub
Getting there
200 Pelican Ave, New Orleans, LA 70114, USA
Hours
Mon-Thu 11am–12am
Fri-Sat 11am–2am
Sun 11am–12am