Those who love Thanksgiving tend to love it because it's an opportunity to gather with our family and/or neighbors over an incredible meal. Those who love New Orleans tend to love it because — well, gathering over great food is basically what we do everyday, Thanksgiving or not!
So it makes sense that New Orleans and Thanksgiving fit together better than a chicken stuffed inside a duck stuffed inside a turkey. (We invented turducken, by the way!)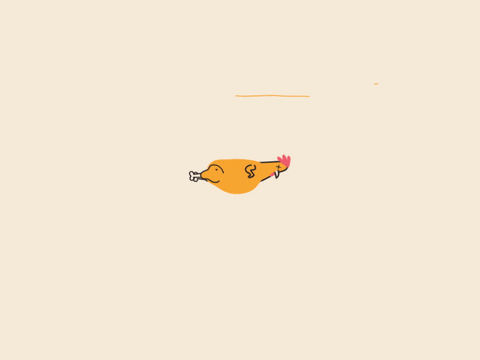 There are so many ways to celebrate this special holiday — here are five of our favorites!
Hit the Track!
For something uniquely New Orleans, head over to the Fair Grounds Race Course & Slots and take part in a Big Easy Turkey Day tradition. The first horse race begins at 11 a.m., but the doors open at 9 a.m. The final race of the day starts at 3:35 p.m. and you can bet on as many or as few of the races as you'd like, for as much or as little money as your heart desires / can handle.
What makes the day so special, though, is that thousands of New Orleanians turn up for the event — many dressed up in their fanciest headwear! Hats aren't a requirement, but they're certainly a nice touch.
There are three Thanksgiving-themed buffets set up around the grounds (for as low as $39), and concession stands are open, as well. The Fair Grounds' bars will be serving everything from racetrack favorites like Mint Juleps to your go-to domestic beers.
If that wasn't uniquely New Orleans enough, of course, we have a less traditional alternative. Maybe you have issues with horse racing, maybe you have issues with gambling, or maybe you just don't like doing the same thing two years in a row. Whatever you reason, check out Human Horse Races, a benefit for Trampled Rose Ranch, at Easton Park in Mid-City. Attendees are encouraged to wear your fanciest hats, or to dress up like a horse so you can take part in the "horse" (but, really, human) races for charity! The free event is from 1 – 4 p.m., there'll be complimentary cocktails, and music will be provided by The Dapper Dandies!
View this post on Instagram
Join a Saints Potluck
Happy Saintsgiving! You may have heard the 8 – 2 Saints are playing the arch-rival Atlanta Falcons on Thursday Night Football. Every game against the Dirty Birds is special, but after they came to the Dome and handed us that unexpected loss a couple of week ago, this rematch has the potential to be explosive!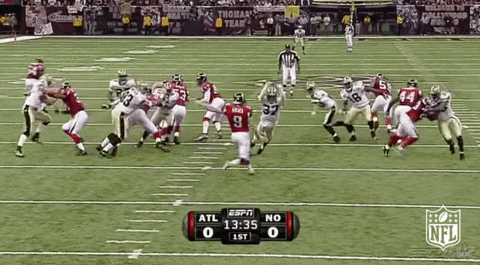 Can't make it to the Dome? No problemo, because bars across the city will obviously be showing the big game. Some are even upping the ante by hosting a potluck.
Check some of your favorite bars to see what their plans are, but we know J&J's Sports Lounge is hosting their annual potluck at 2:30 p.m., while Saturn Bar starts theirs at 6 p.m. and Pete's Out in the Colds' is a little after 7 p.m.
Catch Dinner and a Movie
Would you like your Thanksgiving meal to be more of a fine dining affair? You know New Orleans has you covered!
Some of the city's finest restaurants are hosting special meals for the holiday: everything from a thematic brunch buffet from 10:30 a.m. until 2 p.m. at the Roosevelt Hotel ($89) from 10:30 a.m. until 2 p.m., to seasonal a la carte offerings at casual hotspots like the Country Club, to multi-course pre-fixe feasts at eateries like Arnaud's ($55) and Galatoire's 33 Bar & Steak ($85). Be sure to make reservations at your favorite restaurant to guarantee a spot at the table!
After the meal, head out to one of our local theaters to catch a movie. 'Tis the season for Oscar contenders to roll out, and that's evidenced by The Broad Theater rolling out the Mr. Rogers biopic, A Beautiful Day in the Neighborhood, starring Tom Hanks. They're also dedicating screens to the much-anticipated Frozen sequel, as well as Queen & Slim, the romantic thriller about an African American couple's first date that leads to a violent run-in with the police.
View this post on Instagram
Prytania Theatre is showing star-studded and hilarious-looking mystery-thriller, Knives Out, featuring Michael Shannon, Christopher Plummer, Jamie Lee Curtis, Chris Evans and Daniel Craig in a role he does not often play! Zeitgeist Multi-Disciplinary Arts Center will be showing Synonyms, the story of a disaffected young Israeli who feels Tel Aviv to start a new life in Paris, and The Body Remembers When the World Broke Open.
Remember the Spirit of the Holidays
If we have plenty to be thankful for this season, then let's take part of our day to remember not everyone does. Fortunately, there's plenty of ways to do that.
One is by taking part in the New Orleans Athletic Club's 112th Annual Turkey Day Race! The race happens at Tad Gormley Stadium and includes a five-miler that begins at 8:30 a.m., and a half-mile run for kids, ages 12 and under, that begins at 8:35 a.m. Race day registration is $50 for adults and $20 for children, with proceeds benefiting Spina Bifida of Greater New Orleans.
If running isn't your style (or is just unimaginable on Thanksgiving), then consider volunteering your time to feed the hungry with Ozanam Inn or Loaves and Fishes Feeding Ministry. Both organizations have their hands full carrying out their important mission on Thursday, as well as throughout the year.
Dance Off Those Calories!
If all went according to plan, you'll have eaten a lot of food. More than you would normally eat in a week. And it's just a few hours until you wake up in the middle of the night for your first cold turkey and stuffing sandwich.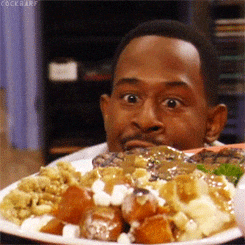 So — once the Saints win *knock on wood* — rather than dozing off, get off the couch and consider grooving to some of the music this city's famous for. There are a lots of options, but one that seems especially fun is Geno Delafose & French Rockin' Boogie playing Zydeco at Rock 'n' Bowl ($12)! The music starts at 8 p.m., but the lanes open at 4. The dance floor will be full, and the Saints game will be on!
Or you can let your hair down at at the Bywater's Vaughan's Lounge, where Corey Henry & the Treme Funktet will kick off their weekly show at approximately 10:30pm ($10 – $15, includes red beans and rice because you haven't eaten enough yet). With everyone back in town for the holidays, it's sure to be a wild one!
View this post on Instagram
As you can see, there's no shortage of ways to celebrate Thanksgiving in the Big Easy. And this is just the tip of the iceberg! Did we miss something you love? Comment on this post on our Facebook page so your fellow New Orleanians can join in the fun.
Happy Thanksgiving!
WRITER MATT HAINES LIVES IN NEW ORLEANS. FOLLOW HIM FOR ALL YOUR HOLIDAY NEEDS (AND MORE!) AT MATTHAINESWRITES.COM, AND ON FACEBOOK, INSTAGRAM AND TWITTER.