UPDATE August 2020: We originally published this story in June 2019. While COVID-19 has changed a lot of Pittsburgh summer traditions, Kennywood Park is open with a limited schedule. You can see a list of rides/attractions that are closed here, the list is updated daily. If you aren't up for a trip to the park, you might enjoy watching the Kennywood Memories documentary or browsing some of these Kennywood artifacts on eBay.
If you are interested in learning some Kennywood History, here is a look at how the Old Mill became Garfield's Nightmare.
---
On my way down to West Mifflin following the telltale Kennywood signs, I tried to recall the last time I'd been to the park. Suffice it to say, my last visit to the park I was wearing jelly sandals; and not ironically.
I decided to end my 10+ year hiatus with the help of Nick Paradise, Kennywood's Director of Public Relations and Social Media. When he's not putting out ketchup-related fires, he's out planning and promoting the many events going on at the park.
Paradise spent a drizzling morning with Very Local at the park, highlighting all that's changed, and what hasn't. Here are 15 takeaways, little known facts, and things to look out for on your next (or first) trip to Kennywood.
Friends don't let friends double dip alone! Hop on down to Kennywood now that we've finally got some nice weather for some roller coasting! pic.twitter.com/eLE4UB5Gni

— Kennywood (@Kenny_Kangaroo) June 21, 2019
15 things to know before you visit Kennywood Park
1) Start with "Goodnight"
When you enter the park, turn around and you'll see what might possibly be the most Instagrammed spot in the park, the glowing "Goodnight" sign. While once housed in the Lost Kennywood section of the park, the sign now presides over the entrance (see header image).
The sign is a reference to Luna Park, one of Pittsburgh's historic trolley parks–which is basically what we'd call today's amusement parks. During its peak, Pittsburgh had nearly 15 trolley parks in operation at the same time, including Kennywood.
Luna Park was located in Oakland and in operation from 1905 to 1909. While it didn't last long, the park was notable for being one of the first to be wired for electrical lighting. Portions of Lost Kennywood were designed as a nod to Luna Park, including the "Goodnight" sign.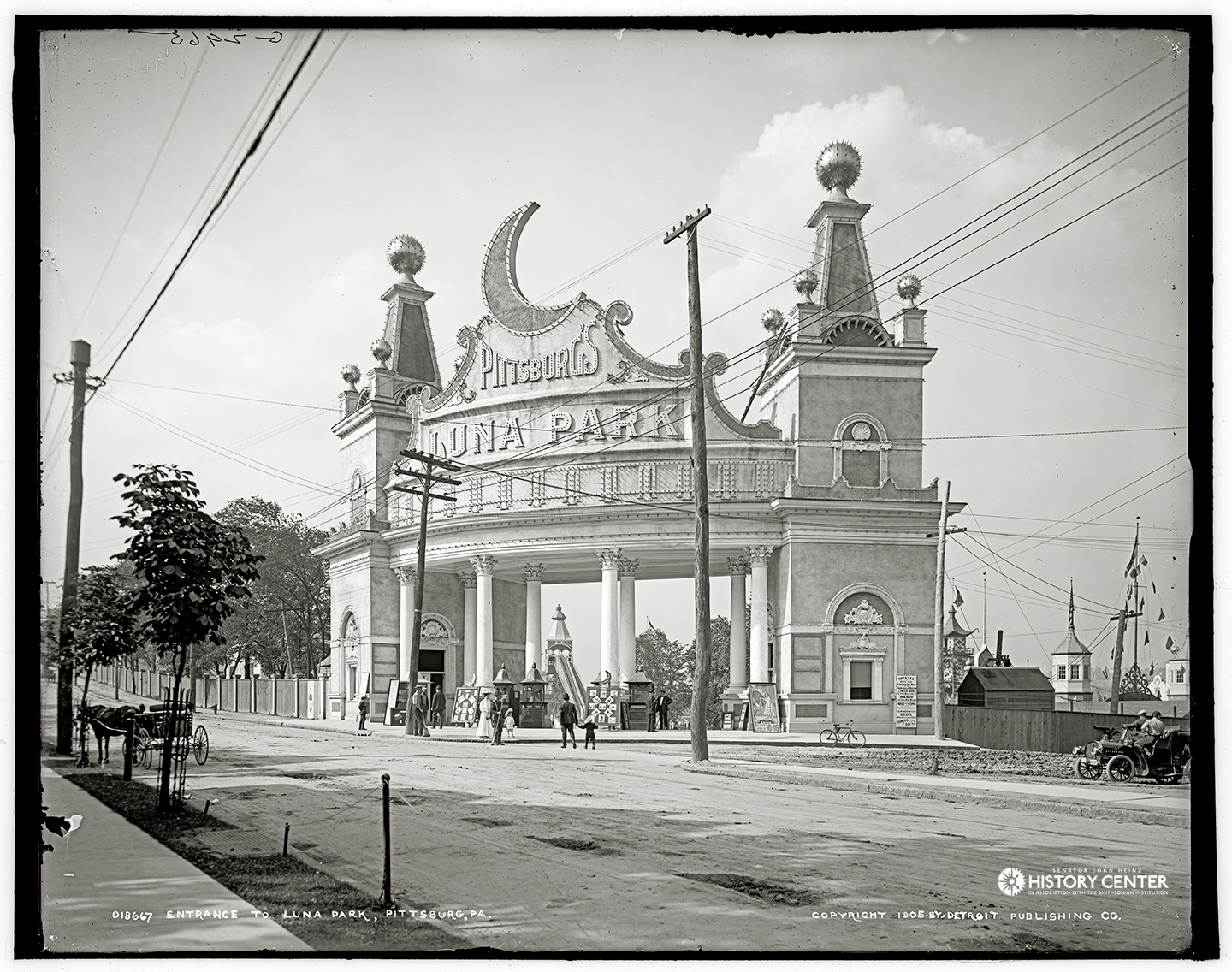 2) Begin at the End
After you grab your customary "Goodnight" 'gram, many riders are tempted to visit the first ride they see at the front of the park. In his five seasons of experience, Paradise advises against this. Instead, head to the back of the park early in the day to avoid the long lines you'll find up front.
3) The 100 Year Jack Rabbit
Kennywood has many historic rides, but the Jack Rabbit is certainly one of the most notable. Opened in 1920, it's one of the oldest still-running rollercoasters in the world.
Don't let the age of the Jack Rabbit discourage you from riding. Paradise says about 10 percent of the wooden coaster was replaced this year. In addition, the 12-person team of carpenters walk the tracks each day, making sure the coaster is safe and smooth for riders.
4) Literal Rain Checks
While no one can control the weather, Kennywood does offer rain checks to visitors in the event of a persistent downpour. Simply keep your ticket stub to get a pass for a future visit.
5) Pavilion Picnics
Most of us can't resist the siren song of the Potato Patch, but you might not know you can also bring your own picnic in the park. You can bring up to a cooler-size of goodies–just make sure there are no glass bottles. You can enjoy your meal in one of the park's picnic groves.
https://www.instagram.com/p/ByadD11ADH3/
6) Kennywood for All
As a part of Kennywood's commitment to serving all its visitors, the park earned the Certified Autism Center designation earlier this year. This includes team members certified to help care for people with special needs, a sensory guide for the park, designated quiet zones, sensory bags and more.
Any visitors requiring special assistance are encouraged to visit the rider safety center just outside the park entrance prior to their visit for more resources.
7) Stay Tuned for the Steel Curtain
Looming large over the park, Kennywood's latest attraction, the Steel Curtain, is all but ready to open, pending successful test rides. While Paradise couldn't offer an exact opening date, the new steel roller coaster is guaranteed to bring the crowds. In development for the last two years, the partnership between an amusement park and a professional sports team is the first of its kind.
Riders will need a stomach of steel for this record-breaking ride. The Steel Curtain will have nine inversions, more than any in the country, and the tallest drop in the world.
The Steel Curtain is rising soon at Kennywood…🎢

This black-and-gold behemoth at @Kenny_Kangaroo is going to break some records, and it promises to be meaner than Mean Joe Greene.

Read more about Steel Curtain here! https://t.co/8r8gfmB3T4 pic.twitter.com/VFaqTDUnP8

— Pittsburgh Post-Gazette (@PittsburghPG) June 19, 2019
8) It Takes a Village
Kennywood employs a year-round staff of 85, but during peak season, the park will have more than 1,500 employees, some seasonal staff going back generations of working in the park.
9) "Kennywood's Open," but it's Still a Mystery
Live in Pittsburgh long enough, and you've probably heard someone use the phrase "Kennywood's open" to alert you that your fly is indeed, down. Our friends at The Incline did a deep dive on this charming phrase last year, and while the phrase was likely coined in the 1950s, its exact origins are unclear.
10) Kennywood Year Round
OK folks, but seriously, Kennywood's open, for a lot more of the year than just the summer. Fall brings Phantom Fright Nights for an older crowd and Happy Hauntings for the kids, or kids at heart.
In the winter, you can visit Kennywood's Holiday Lights, where more than 2 million lights are displayed across the park.
11) Save Time & Dime: Buy Tickets Ahead of Time
If you wait until you reach the gate to buy a ticket, you're guaranteed to be paying the highest price for admission. You can get discounted tickets at Giant Eagle, or by purchasing tickets up to a week in advance online.
12) Craft Brews at Kennywood
What would a Very Local rundown of Kennywood be without a mention of craft beer? The park has been quietly serving brews in its beer garden for years now. If you're looking for a respite from the crowds, check out this 21+ area.
Or, if you want to do a full-on pairing with thrill rides and IPAs, check out Kennywood's Brews in the Park Festival in September. The event includes select rides open during the beginning portion of the event.
13) The Park's Most Popular Ride
Consistently ranked as one of the top 50 rollercoasters in the world since its opening, the Phantom's Revenge is Kennywood's most popular ride. Paradise suspects these numbers might change with the opening of the Steel Curtain, but for now, the Phantom's Revenge, which opened in 2002 to replace the Steel Phantom, takes the top spot.
14) Take a Risk with Weather
There's no secret time or day that ensures the shortest lines and fewest crowds, but if you don't mind a sprinkle or two, Paradise advises guests to visit on a fairweather day. You might get a little rain, but knowing Pittsburgh's unpredictable weather, you might not.
When the forecast calls for showers, most park-goers opt to stay at home, meaning shorter lines, fewer crowds and more ride time.
15) Living Up to its Name
The tradition of Pittsburghers using directions based on where things used to be is alive and well in Kennywood. It's hard for anyone to preface Garfield's Nightmare, without saying, "You know, what used to be the Old Mill."
No matter what you call it, the tunnel of love turned 3D dark tunnel water ride with cat and lasagna motif is the park's oldest operating ride, shuttling its first riders in 1901.
Kennywood Park Details
Website: kennywood.com
Address: 4800 Kennywood Blvd, West Mifflin, PA 15122
Phone: (412) 461-0500
Hours: 10:30am – 10pm
Kennywood Park on Social Media
Kennywood Park Hashtags
#Kennywood

#KennywoodPark

#SteelCurtain

#KennywoodFan

#KennywoodRocks

#JackRabbit
Photos by Hannah Diehl
Getting there
4800 Kennywood Blvd, West Mifflin, PA 15122, USA
Hours
Mon-Thu Closed
Fri 5 – 9 PM
Sat 3 – 9 PM
Sun 5 – 9 PM