At a show titled "Living Light: Photographs by the Light of Bioluminescent Bacteria" at Chicago's ARC Gallery in 2018, there was a conspicuously long line for the bathroom. It wasn't that there was a shortage of stalls, or that the refreshments had been flowing liberally (though maybe that was also the case). While the walls of the gallery featured photos Dr. Hunter Cole had taken of paintings she made with luminous blue-green bacteria, on a whim she'd hung two of the actual living, glowing paintings in the restrooms. It was the only place dark enough to experience the full effect, and while her photos are magnificent and surreal in their own right, attendees didn't want to miss an opportunity to see the real deal.
On Oct. 10, New Orleanians will have their own chance to see an even more impressive version of 'the real deal' at an event called "GLOW: An Illuminated Living Art Experience" at the Zeitgeist Theater in Arabi (which we promise is really not that far away). Cole seems rightly excited for the event, which is like nothing she's done before. This time, she will have a whole darkened theater to make use of, and there won't be just two glowing paintings tacked up on the wall as an afterthought. The entire theater will be aglow from works made with the special strain of bacteria. There will also be performers in costumes adorned with radiant petri dishes (and enormous angel wings, I am told), dancing on stage and interacting with guests, who are encouraged to pose for and take photos of and with the dancers. Cole will also be photographing the event, and her "Living Light" exhibit will be displayed in the theater lobby from Oct. 5 to Nov. 28. But trust me — the living art event on Oct. 10 will be a unique experience you don't want to miss.
While Cole's credentials seem to place her firmly in the science world — she received her bachelor's degree in plant biology from Berkeley, holds both a master's degree and a doctorate in genetics from the University of Wisconsin-Madison, and has spent most of her professional life as an academic lecturer — art and science have always been closely linked for her. She said she finds art to be a "non-threatening and fun" way to bring science to the masses.
Growing up in San Francisco, her Sunday visits to Golden Gate Park with her father were often highlighted by stops at the California Academy of Sciences or the de Young art museum, experiences she enjoyed and found inspiring in equal parts. It was a trip to the Musée d'Orsay in Paris, where she was blown away by the real-life versions of oil paintings she'd only seen in books, which brought her out of a graduate school slump. It also encouraged her to take her drawing hobby more seriously and eventually move on to painting as well; more often than not, her works had a strong tie to science. By 2016, she'd become so adept with painting that 14 of her biomorphic oil paintings were installed as a permanent collection titled Biological Domains at Loyola University Chicago.
She'd also become savvy to a radical new medium: a particularly bright strain of bioluminescent bacteria (Photobacterium phosphoreum) found in Pacific rockfish. There are tens of thousands of bioluminescent organisms on the Earth — that is, creatures that produce their own light (think fireflies, or that super scary bottom-dwelling fish in "Finding Nemo") — but the Photobacterium phosphoreum have become Dr. Cole's muse, their soft azure glow her hallmark. Editor's note: It's an angler fish.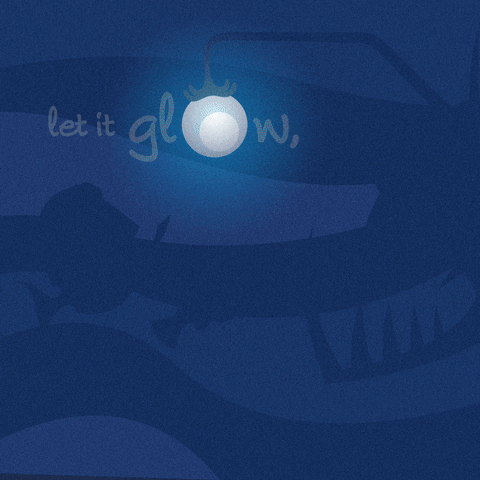 Invisible at first, she carefully paints a liquid layer of bacteria in the desired pattern atop a bed of agar in a petri dish, which she likens to painting with water on Jell-O. Agar is a colorless gel that effectively serves as food for the bacteria, which begin to glow as they feast, and which reach peak brightness roughly 24 hours after being painted on. Almost poetically, it is the brightest glowing areas that are the first to fade, as they're representative of a higher concentration of the bacteria, which exhausts the nutrients more quickly. It can take up to two weeks for the luminous paintings to fully burn out.
If you're worried that this sounds like a biohazard, don't be (that was one of her other art/science crossover pursuits, an early 2000s exhibit titled "Radioactive Biohazard: Reinterpreting Biotechnology as Art"). The bacteria are harmless. Dr. Cole has even toyed with the idea of painting directly on human skin, but it's the bacteria that aren't able to stay alive and well enough for that experiment to be a success.
"You could probably genetically engineer something for that, but I like to keep it natural," she said.
So how did the Californian who found personal and professional success in the Midwest wind up in New Orleans? She moved with her husband and daughter in July 2018 in order to be closer to family and to escape the brutal Chicago winters. She joined the faculty of Loyola University New Orleans as a visiting associate professor of biological sciences and has been encouraged by how the art community has welcomed her as well.
"The art world is just funny," she says. "I applied to so many things before getting the ARC show, which was great of course. But then for this, I did a group show with Studio Waveland in Mississippi last December, and Erica Larkin Gaudet put me in touch with Rene Broussard at the Zeitgeist Theater. I told him about my work and he was just like, 'Sure you can have a show!' Then I asked him if I could use the whole theater for a night, for the living art part, and he was like, 'Sure you can have the theater!' It's just funny like that."
As for the bacteria, and the truly unique art she is able to conjure from them, she has a different adjective: "It's kind of like magic."
Know Before You Go
"GLOW: An Illuminated Living Art Experience" takes place at the Zeitgeist Theater on October 10, 2019 from 6-10 p.m. It is free to the public, with drinks and snacks available for purchase.
"Living Light: Photographs by the Light of Bioluminescent Bacteria" will be displayed at the Zeitgeist Theater from October 5 – November 28, 2019.
The Zeitgeist Theater is located at 6621 St. Claude Ave., Arabi, LA 70032.
Cell phone photography is welcome from all, but professional/DSLR photography must be cleared in advance. Photographs from the event will be available for purchase at www.huntercolephoto.com