Yes, the pandemic has made me a doting plant parent. My mom is a garden expert — any space she's touched has magically turned into a rain forest. She left gave me four plants in the autumn — and one of them died (RIP little weeping willow). But since the COVID-19 pandemic had me in the house, I've suddenly remembered to water my plants every once in a while. I'm a reluctant plant mom starting from scratch, but here are a few things that've really helped me out since my home garden has taken root.
So, what plant is this again?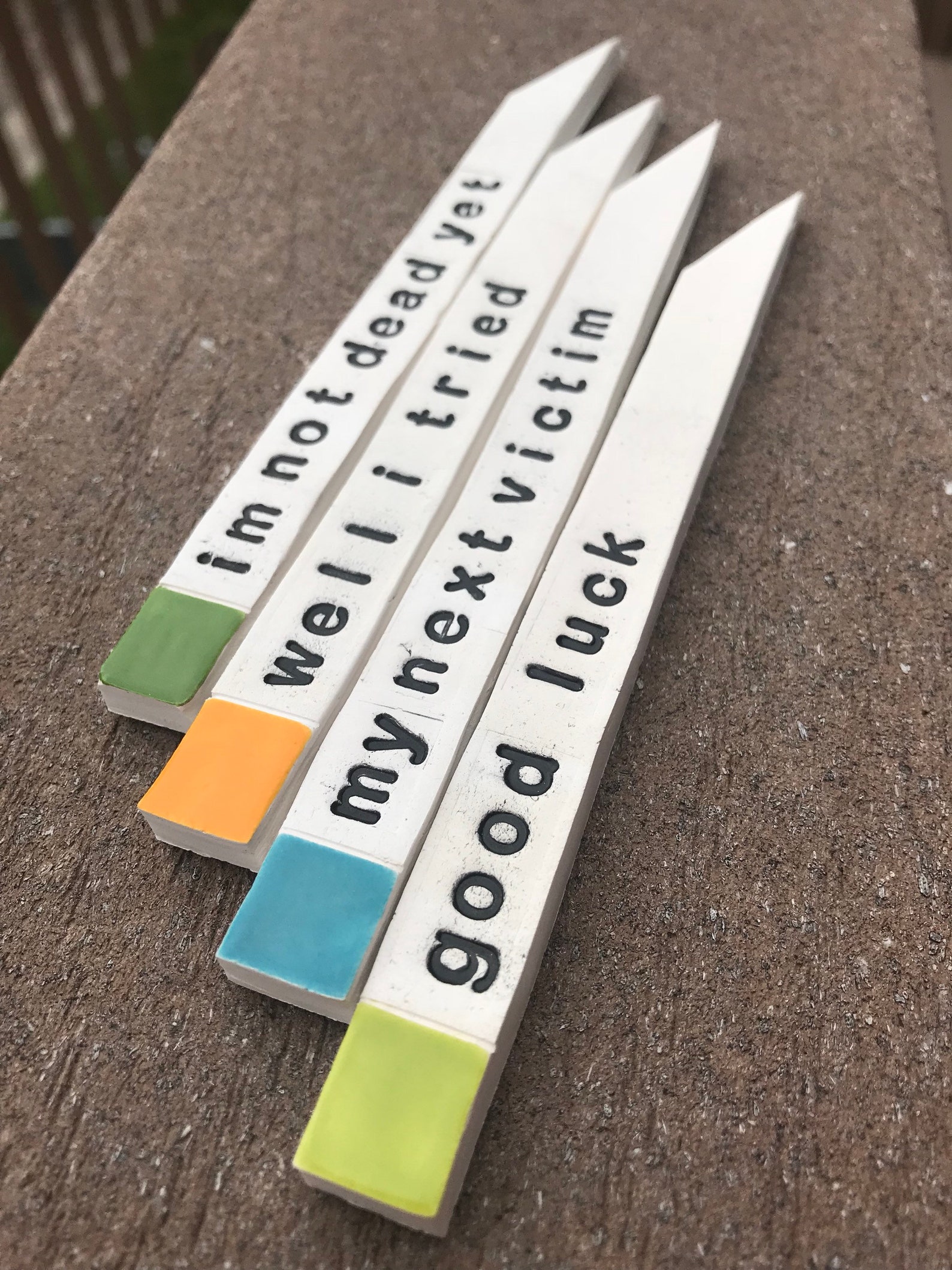 Buy them on Etsy ($25)
So, I have a hard time keeping things alive. These hilarious plant labels make me not fell so bad about having a brown-ish thumb, and they're unglazed ceramic, so if you name your plants like I do, you can write it with a marker on the back. CeramaeStudios also makes labels for herbs, if you want a jazzier touch than the plastic care labels that come with plants when you buy them.
We all need a little support
A few of my plants were overachievers. They began creeping out of their pots, and one got so tall, it started tipping over. These plant supports were a huge help to correct the plant and prop it up, and they're great for vine climbers like tomatoes if you're starting a food garden.
Plants get hungry too
After neglecting my plants for so long, they needed a good meal. Miracle-Gro fertilizer only has to be applied once a week when I water, and it comes with a handy measuring spoon so you can know exactly how much to put in your watering can and don't overfeed them.
A place for your plants
When I first started this journey, I was using a TV tray to keep my plants off of the ground (my dogs thinks they're snacks). This stylish plant stand has different levels for your plants, is better looking than a TV tray (let's be honest), and the top levels them high enough that my chihuahua can't chew on them and get sick.
Stop using that old milk carton to water your plants
Yes, I too used an old milk carton to mix my fertilizer and water my plants, and it worked fine! But as I got deeper into being a plant mom, I graduated to a watering can. This one holds two gallons of water and I can leave it outside to collect rainwater without my neighbors thinking I'm a packrat.
Grow your own food
Since being home, we've all started cooking way more as well. This windowsill herb garden helps you make fresh seasonings for your meals, and takes a lot of the guesswork out of growing; The pots are reusable, there are markers so you won't get your plants confused and the kit comes with nutrient-rich soil disks that are pre-fertilized to feed your seedlings.
Pests like plants too
If you've got a garden, eventually you're going to have insects who love your plants, too. This insecticidal soap is approved for organic gardening and keeps critters like aphids, mealybugs, spider mites, and white plies off your beloved plants. It's safe to use on everything from vegetables to houseplants.
In case you forget to water them
So my main issue when I started gardening, was that I was so busy, I forgot to water my plants. These self-watering pots take the guesswork out of that, using a cotton rope connected to the plant pot to keep the soil moist.
Plant pockets
Maybe you don't have a lot of space on your patio for herbs on the ground, of your backyard doesn't have a big enough area for a garden. No problem! These plant pockets can easily transform a wall into a garden. The top of the pockets have metal eyelets, so you don't have to worry about the weight pulling and ripping the fabric, and it makes them easy to move.
Grow up, not out
So your apartment doesn't have a balcony to an overhang planter, or you don't have a patio. As long as you've got some window space, this vertical planter can help! There are 12 planting spaces, and the design allows you to only worry about watering the top — water will flow down to the rest of the plants.