Yes, even as adults, stickers matter. Especially the stickers that prove you went to exercise your right to vote. It's a small badge of bragging rights we all wear proudly.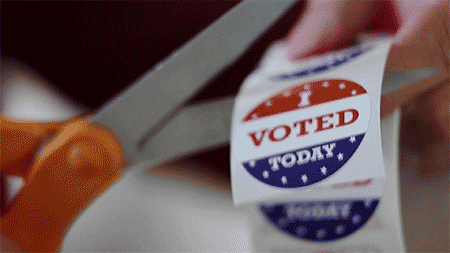 Not long after the polls opened, many residents posted on social media that they didn't get the usual 'I voted' sticker at their local polling place. The reason, state officials say, is "budgetary constraints." 💸
Hi Jennifer, the clerk is not responsible for them, my error. Our office sent out Blue Dog stickers in 2016 as a participation initiative, but has not provided them other than that election due to budgetary constraints. -Brandee Patrick, Public Information Director

— La. Sec. of State (@Louisiana_sos) November 6, 2018

Two years ago for the 2016 elections, artist George Rodrigue's iconic Blue Dog 'I Voted' stickers made an appearance, causing such a frenzy that they began selling on Ebay, from $4.99-$50, according to an article from USA TODAY.
The Secretary of State's office said on Twitter they are hopeful that they will be able to offer them in the future. We sure hope so, because bragging rights to show your pride for democracy is a small but welcome gesture.
Also, many area bars and watering holes are holding specials for people with 'I Voted' stickers, but how are locals going to get that?
The Courtyard Brewery says they'll take your word for it.

Know any other bars offering Election Day specials? Hit us up on social media @VeryLocalNola or email us at [email protected]
If the lack of stickers is a bummer, maybe 5th Ward Weebie's voting remix to his hit "Lemme Find Out" can get you to bounce on over to the polls. Click here to check it out.