A wintertime cocktail can make any holiday situation a little better!
Whether you're bracing yourself for an awkward family (Zoom) gathering, hoping to make an evening with close friends a night to remember or just trying to give yourself something to do during the commercial break between Home Alone and Home Alone 2, learning to prepare a fun seasonal drink can make you the life of the party…even if it's only a party of one at the moment.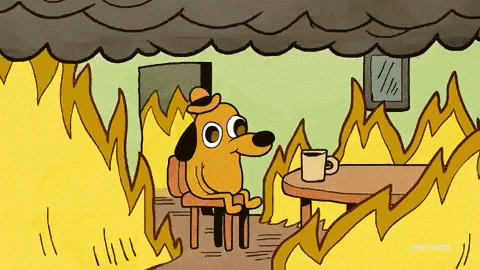 "Making guests a cocktail at home is a wonderful show of hospitality," says Bar Marilou bartender Ryan Wilkins, "and though you might not be hosting parties this year like you have before, I still believe taking the time and trouble to make yourself a proper cocktail is an affirmation of civilization. The entire process is it's own celebration, really, a time spent focusing on joy and pleasure rather than worry and stress."
I couldn't agree more! The problem is I can barely open a wine bottle, let alone craft my own cocktail.

If you're like me — or even if you just want to expand your already-impressive cocktail repertoire — you're going to love this list! I asked some of my favorite bartenders around New Orleans if they'd share one of their favorite holiday drink recipes, and here's what they sent me. It's enough to get you through 12 days of Christmas, eight nights of Hanukkah and probably most of 2021, as well. Enjoy!
Milk Punch
Bartender: Casey Jo Holman, Compère Lapin
"The best holiday cocktails are just this side of decadent. They remind us of treasured traditions, and help us make new ones. Milk Punch is a local classic, and when it's based in cachaca rather than bourbon, and when it's based in cachaca [a Brazilian spirit] rather than bourbon, it becomes a spirited cousin to the cocktail we all know and love for this time of year. It's a great alternative to eggnog, and good for breakfast or dessert."
Ingredients:
1.75 oz Vanilla-pecan infused cachaca

.25 oz Borghetti Espresso liqueur

.5 oz simple syrup

3 drops vanilla extract

1.5 oz whole milk

.5 oz heavy cream
Infuse cachaca with vanilla and pecan by steeping at least overnight and then straining through a fine filter ($6.99). Combine all ingredients (can be batched ahead of time), shake with ice, serve over rocks.
Burl Ives

Bartender: David Bliszcz, The Franklin
"The Burl Ives is a great drink for this time of the year because it is relatively low alcohol by volume. It has a delightful lemon meringue quality that plays well as an after dinner libation and should not leave your guests feeling too tipsy — just pleasantly spirited."
Ingredients:
.75 oz Gin

.75 oz Fresh squeezed lemon juice

.75 oz Godiva White Chocolate liqueur

.75 oz Licor 43

1 cinnamon stick
First, combine all ingredients into a shaker tin ($19) and add ice. Shake vigorously and strain into a chilled coupe glass ($22). Freshly shave a cinnamon stick over the top of the drink. (You can substitute ground cinnamon, but don't.)
Not A-Nutter Irish Coffee
Bartender: Kristin Boring, Finn McCool's Irish Pub
"While there's no contesting the classic Irish coffee, adding the hazelnut is like cutting yourself the bigger slice of pie. You don't need it, but you deserve it. So whether you're headed out to be dazzled by twinkle lights, finishing up your last zoom meeting for the day, decorating the tree, wrapping presents, or baking cookies, this coffee will keep you going."
Ingredients:
.75 oz Irish Whiskey

.5 oz Irish Cream

.75 oz Frangelico Hazelnut Liqueur

6 oz Fresh Brewed Coffee

Whipped Cream for garnish

Optional cinnamon or cocoa powder




Combine ingredients in your favorite mug and stir, top with whipped cream & dust with cinnamon or cocoa powder. Youcould also substitute hot coffee with your favorite cold brew and pour over crushed ice or vanilla ice cream if you really want to treat yourself.

Le Diable de Noël

Bartender: Ryan Wilkins, Bar Marilou

"This drink is intended to be decadent, with a focus on dessert flavors: dark red fruit, dark chocolate, chili spice. It's an after-dinner drink for a celebratory holiday meal. We also spike the absinthe-salt-and-sugar rim with just a little edible glitter to give it the sparkle of new-fallen snow since a white Christmas in New Orleans requires a little extra imagination."

Ingredients for cocktail:

1.25 oz Cathead vodka

0.75 oz Ancho Reyes

0.75 oz Godiva liqueur

0.25 Cynar

0.75 Pom/cranberry reduction

3 dashes orange bitters

Ingredients for garnish/rim

1 oz absinthe

1 cup coarse salt

1 cup sugar

Sprinkle of edible glitter

Orange peel

Start by working on the mixture you'll use to rim your cocktail glass. To do that, add your absinthe to the coarse salt and bake on 350-degrees Farenheit for eight to ten minutes until it's dry. While it's baking, focus on your cocktail by shaking all the "Ingredients for cocktail" together in a shaker tin and strain into a large Nick & Nora glass ($22.95, set of 2). Express the oils from an orange peel over the top of your drink by squeezing the peel between your thumb and index finger. Now, back to your rim. Once you remove the absinthe-salt mixture from the oven, add an equal amount of sugar and a pinch of edible glitter to give it a wintery look. Use this to rim your glass, and then add your orange peel as garnish.
Zoom Zoom
Bartender: Ben Hatch, Gianna
"Typically we would all be celebrating the holidays with friends and family, attending holiday cocktail parties and festive holiday lunches. A holiday starter cocktail is perfect for these occasions and feels celebratory. In 2020, the holidays are paired down quite significantly, but that doesn't mean you can't or shouldn't enjoy traditions and feel festive. This is a play on the classic spritz with some warmer notes with the rosemary and Lambrusco."
Ingredients:
1.5 oz Orange Juice

1oz Campari

2 dash Angostura Bitters

1.5 oz Lambrusco

Sprig of Rosemary for garnish

Grapefruit twist
Mix the orange juice, Campari and bitters into a shaker with ice. Shake the mixture up and strain it into a wine glass. Top it with Lambrusco and garnish with rosemary and a grapefruit twist.
Invisible Goat
Bartender: Sam Kiley, Cane and Table
"This year has given us reason to celebrate being with one another, and perhaps more time in the house to learn new hobbies or experiment on new drink recipes. That is why this holiday season, I recommend batching up this clarified brandy milk punch riff — featuring chai spices, French brandy and the tang of goats' milk. It's equal parts science, art, and magic; and when kept cold the Invisible Goat will be good for weeks. For those who are not familiar with 'clarification,' it is an old school process that uses citrus and dairy to remove tannins and milk proteins from cocktails, while leaving behind all the wonderful tastes and mouth feel. It doesn't take any special equipment, just some time and coffee filters."
Ingredients:
1.5 cups of fresh lemon juice

1.5 cups of chai tea syrup*

2 cups of Brandy or Cognac

4 cups of goat milk
*At Cane and Table we make our own chai tea, but a store bought chai tea will also make a great syrup to use for the sweet agent in this cocktail. Just boil one cup of chai tea and add a third of a cup of white sugar. Stir to dissolve the sugar and set it aside to cool to room temperature. This is now your chai tea syrup.
Next, add the lemon juice and Brandy or Cognac to your syrup to make the cocktail mix. Slowly incorporate the cocktail mix with the goat's milk as you gently stir. Allow this to sit in the fridge overnight to curdle.
Remove the curdle the next day by filtering the mix through a coffee filter. Do this twice to ensure that all particulars have been removed, leaving you with this magic that's almost clear, but full of flavor.
Classic Hot Toddy
Bartender: T. Cole Newton, Twelve Mile Limit and the Domino
"The classic Hot Toddy, delicious in its own right, is also an excellent template for experimentation. Riffing on this basic formula with different spirits (like rum or brandy), syrups (pomegranate syrup, molasses), or bitters (chocolate, ginger) can yield a virtually infinite variety of potent potables."
Ingredients:
1.5 oz bourbon

0.75 oz honey syrup

0.5 oz lemon juice

2 dashes Angostura Bitters

approximately 3 oz steaming hot water

lemon peel (garnish)
*To make honey syrup, thin two parts honey with one part hot water.

Combine all your ingredients into a small tea or coffee cup. Garnish with lemon peel. A cinnamon stick, cloves or other spices can be added as an additional garnish.
Winter Waltz
Bartender: Chris Hannah, Jewel of the South
"The Winter Waltz features classic winter spices, which rightfully deserve their place in the spotlight. Allspice is at the forefront of the Winter Waltz, and is a spice that is typically only a supporting actor. The nutty characteristic of the rye carries the allspice beautifully and gives your palate the sense of cozying up to the fireplace on a bright, winter's day. With the New Year looming ahead, we all look to the stars to see if we can catch a glimpse of what's to come, as the delicate star anise atop the light blanket of bubbles symbolizes on this winter cocktail."
Ingredients:
2 oz Rye

.5 oz Averna

.25 oz Allspice Dram

2 dash Dale Degroff Pimento Bitters

1 star anise pod
Shake ingredients vigorously in shaker tin for about 10 seconds, or until the tin gets frosty on the outside. Strain into a chilled martini glass ($16.99, 4-set) and garnish with a star anise pod ($6.99).
Perfect World
Bartender: Gina Hoover, Cure
"The concept behind the drink was to work with the wholesome flavors of malt and yeast as a way to tie it into the season. Genever is such a delightful spirit to work with since it has such a personality, and despite being a style of gin, it has such a strong tie into the tasting notes of rye whiskey."
Ingredients:
1 1/2oz Bols Genever

1/4oz Nardini Amaro

3/4oz honey

1/2oz grapefruit

1/2oz lime

1/4oz egg white

9 drops Bittermens Burlesque bitters

3 drops saline
Build all ingredients into a cocktail tin. Dry shake, and then shake with ice and double strain into your chilled coupe glass.
Candy Alexander
Bartender: Jeff Schwartz, Beachbum Berry's Latitude 29
"The Candy Alexander is an ideal holiday cocktail because it tickles the familiar sense memories of candy canes and invites us to get in touch with the wonder of our inner child. Plus, having a killer holiday cocktail recipe in your back pocket not only makes you the life of the Christmas party, it'll get you invited to more parties next year!"
Ingredients:
1 oz. Peppermint Schnapps

1 oz. Heavy Cream

.75 mint syrup

.5 Cognac

Spritz of Peychaud's bitters
Combine all ingredients in a cocktail shaker, and shake with ice. Strain into your chilled coupe glass and decorate the top with Peychaud's bitters.
Sparkling Satsuma Pomegranate Punch
Bartender: Brian Landry, Hot Tin and Jack Rose
"Here in New Orleans, we're fortunate to have satsumas this time of year. The sweetness of this citrus fruit combined with the bubbles from the cava and colorful garnishes of pomegranate seeds and satsuma slices give this punch a striking "wow" effect."
Ingredients (yields 16 cocktails):
2 – 750 ml bottles of cava, chilled

1 cup simple syrup

1 cup fresh squeezed satsuma juice, chilled (can substitute for fresh squeezed tangerine or orange juice)

½ cup pomegranate juice, chilled

2 oz. PAMA pomegranate liqueur

3 satsuma, sliced into rounds

1 cup pomegranate seeds

Ice
Mix the simple syrup, satsuma juice, and pomegranate juice in a large punch bowl. Mix in the PAMA liqueur. Next, slowly add the cava. Float the satsuma slices and pomegranate seeds on top of the punch. Finally, ladle the punch over rocks glasses ($22.99, set of 12) filled with ice. Enjoy!
——————————
That's an incredible list of seasonal cocktails from some of New Orleans' best bartenders! We're obviously not celebrating exactly as we'd like this year, but learning to make your own wintery drink can be a fun and memorable holiday activity — and maybe even spark a new hobby!
WRITER MATT HAINES LIVES IN NEW ORLEANS. FOLLOW HIM FOR ALL THINGS RELATED TO TALENTED NEW ORLEANIANS, THE HOLIDAYS AND BOOZE, FOLLOW HIM AT MATTHAINESWRITES.COM, AND ON FACEBOOK, INSTAGRAM AND TWITTER.