Running (Or Walking Briskly) Into A Healthier and Happier 2020!
There's no better time than right now to start achieving your goals and there are lots of options in New Orleans for you to run to, literally! !
The new year is here! And, if you're like me that means you've been thinking a lot about your New Year's resolutions.
And we're not alone. The American Medical Association estimates somewhere between 40% to 50% of Americans use the turn of the calendar as an opportunity to form resolutions toward a healthier and more fulfilling life. This year I've already made several resolutions — eating less meat, read more, and then, of course, there's the grand-daddy of all resolutions: exercise.
Right now, I feel more like this kitteh.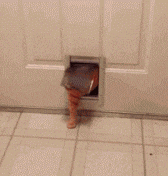 "Every group has its own unique characters and characteristics, so there's something for everyone." explained Amany Ishaq, a staff member of running shop, Varsity Sports, and a member of the store's run club. "January's the perfect time to start running. You won't be sweating bucketloads, and there are some local races just a few months off if you want to train for something."
Soul Squad Run Club
This popular group, formerly known as Happy's Running Club, has taken up residence at Manning's Sports Bar & Grill. Soul Squad Run Club attracts dozens of runners each week, both serious and casual. The group meets every Wednesday, rain or shine, and attendees run at their own pace. The group assembles beginning at 5:45 p.m., and kicks off a 3-ish mile run (routes vary based on the week) at 6:16 p.m. And, just because you're getting healthy doesn't mean you can't bask in life's finer things: runners hang out for half-priced beers and bites after the workout.
When: 5:45 p.m., and the run starts at 6:16 p.m.
Where: Manning's Sports Bar & Grill
Distance: 3 miles (ish)
Cost: Free to attend
View this post on Instagram
Varsity Sports Running Club
When: Tuesdays/Saturdays
Where: Tuesday: 6 a.m. Coca-Cola Building on Jefferson Davis | Saturday: 6:30 a.m. (Audubon or City Park)
Distance: 3-10 miles
Cost: Free to attend
Varsity Sports on Magazine Street is a great shop to satisfy all your running needs. And, if you're looking for a great group to run with, they've got that, too! This group — which usually consists of 10 to 30 runners — meets on Tuesday and Saturday mornings. The Tuesday run starts at 6am outside the Coca Cola Building on Jefferson Davis. The group does some "NOLA hill training" on the Jeff Davis overpass. On Saturday at 6:30 a.m., they alternate runs between Audubon and City Park, with runners usually taking on between three and 10 miles. On both days, it's up to the runner to decide how much or long they want to run, and routes are designated for different distances. The group is for all skill levels (even walkers), and it's totally free to join.
Louisiana Running + Walking Co.
When: Mondays 6:30 p.m. | Thursdays 6:30 p.m. | Fridays 6 p.m. | Sundays 7 a.m.
Where: Mondays: Louisiana Running + Walking Co. (Canal Street) | Thursdays: City Park | Fridays: Cooter Browns
Distance: 2.2. miles (Walkers) | 3 or 5 miles (Runners)
Cost: Free to attend
This Mid City-based running/walking store has four groups all under the appealing mantra, "Run. Walk. Beer." The most popular meet-up is on Mondays, starting from their Canal Street store at 6:30 p.m., and includes a 2.2 mile course for walkers, and a three- or five-mile course for runners. There's also a 6:30 p.m. meeting on Thursdays at the City Park track, a 6 p.m. meeting on Fridays at Cooter Browns, and a 7 a.m. meeting on Sunday mornings back at the store. Each group offers a variety of pace and distance options.
Power Miler Track Club
When: 6 p.m. Tuesdays (Track Sessions) | 6 a.m. Sundays
Where: Tuesdays: City Park or Pontiff Playground | Sundays: Audubon Park
Distance: (TBD)
Cost: $50 annually for official membership
Whether your preferred distance is a mile or a marathon, if you're looking to get serious about running, the Power Miler Track Club could be for you! The group meets for track sessions at 6 p.m. on Tuesdays at City Park or Pontiff Playground, and Sundays at 6 a.m. for longer runs starting at the St. Charles Avenue entrance to Audubon Park. Anyone's welcome to join the group for individual workouts, and if you want to join the club officially — which includes the expectation that you'll attend a number of club runs — it's a $50 annual fee.
Hash House Harriers
When: Sundays, Mondays, Saturdays (Check calendar start times)
Where: Varies
Distance: Varies
Cost: Varies, but usually about $5 – $10
And now for something completely different. There are nearly 2,000 Hash House Harriers chapters around the world, and several in New Orleans. The most famous here is NOH3, the group that organizes the famous Red Dress Run. Runs are patterned off the British game "Hare and Hounds" during which one runner is the Hare, getting a head start and laying out a course with flour or chalk. The hounds start later, following the path and trying to catch the hare. The group is all about fun, and welcomes all sorts of runners (and walkers). They meet on Saturdays, Sundays or Mondays, and the calendar can be found here.
View this post on Instagram
The 504th
When: Tuesday at 7 p.m.
Where: Varies
Distance: 3-8 miles
Cost: Free to attend
This running group is all about diversity. Their goal is to bridge the gap between the different cultures and communities of New Orleans, and every Tuesday they meet at 7 p.m. to run through a different part of the city. Runs are typically three to eight miles, though there's flexibility based on your level. Check out their Facebook page to learn where their next run will be.
Move Ya Brass
When: Mondays 6 p.m.
Where: Crescent Park Dog Run (Nov. – March 2), NOMA in City Park (March 9 – Oct.)
Distance: 2-4 miles
Cost: Free to attend
Each week, Move Ya Brass offers a full slate of exercise classes. And, on Mondays at 6 p.m., it's all about running. From November through March 2nd, the group meets at the Crescent Park Dog Run. From March 9th through October, they meet at NOMA in City Park. Runs are two to four miles, and the group's Vice President, Thomas Nguyen, says they're all about creating a bond between runners. "We support each other," he explains. "You come here as strangers, but you leave as family.'"
View this post on Instagram
5:20 Running Club
When: Saturdays 5:20 a.m.
Where: Gernon Brown Gym
Distance: 7 ½ miles
Cost: Free to attend
One of the longest-active running groups in New Orleans, 5:20 Running Club has been around since the 1970s! The group meets on Saturday mornings, beginning their runs at exactly 5:20 a.m.. They set-up in sub-groups with paces ranging from 7 ½ minute miles to 12-minute miles, and they also have a walking group. They meet outside Gernon Brown gym (the corner of Harrison Avenue and Marconi Drive in Lakeview) and the full route is 7 ½ miles, though some run a more abbreviated section. The group is free, all are welcome to join, and members typically continue hanging out for breakfast after the run at Russell's Marina. Contact group leader, Ross Shales, by email for more information!
tasc Performance
When: Tuesday 6:15 p.m.
Where: tasc Performance on Magazine Street
Distance: 2-5 miles
Cost: Free to attend
Want to train for free with a multi-marathon finisher? tasc Performance on Magazine Street in Uptown will give you that chance with Jill Marie Kenyon every Tuesday at 6:15 p.m. Each run is two to five miles, and runners and walkers of all levels are welcome. After the workout, attendees can hang out at the store to peruse the gear and enjoy complimentary beer and water. Email here for more information.
November Project
When: Mondays 6 a.m. | Wednesdays 5:15 a.m. and 6 a.m. | Fridays 6 a.m.
Where: Varies
Distance: Varies
Cost:
This hugely popular (and free) running/fitness group meets on Monday, Wednesday and Friday mornings at 6 a.m., with an extra 5:15 a.m. workout on Wednesdays for the super-early-risers among us! Monday's workouts vary (follow their Facebook page for more information), while Wednesdays start in Champions Square and Fridays meet at Shelter One on the Lakefront (the parking lot across the street from Landry's). These runs typically are about three miles, though there are stations set-up where attendees stop running to take on some other fitness task. When asked why January was a good time to join this group of as many as 100 runners, co-lead Tonia Salas Buise said, "Because it's now!"
View this post on Instagram
————————————————————
Tonia's right. This is your chance! And there's no better time than right now to start achieving your goals. A 2009 study found 46% of participants who made common New Year's resolutions were likely to succeed — over ten times more likely than those deciding to make life changes at other times of the year.
Email a running club or two today and put yourself on track to achieve your goals in a healthier 2020!
WRITER MATT HAINES LIVES IN NEW ORLEANS. AND WHETHER YOU'RE LOOKING TO IMPROVE YOUR HEALTH OR GORGE YOURSELF ON KING CAKE, HE'S WRITING ABOUT IT AT MATTHAINESWRITES.COM, AND ON FACEBOOK, INSTAGRAM AND TWITTER.
Buffalo Bill's House in "The Silence of the Lambs" is the stuff of nightmares, but for diehard fans of the film, staying there is a dream come true. You can now rent the fictional serial killer's abode in Perryopolis, Pennsylvania, which is 30 miles outside of Pittsburgh. Parties of up to eight people can relax in the fully furnished, 112-year-old home, watch the iconic movie and enjoy liver, fava beans and a nice Chianti in the kitchen.
The underground speakeasy features decor, spirited drinks, live music and throwbacks to the '20s in the Orpheum theater's old ice pit.
In between bagging garbage that's been sitting out for weeks, separating building materials, and crossing your fingers that the WiFi and electricity doesn't go out again, we thought you might want to brush up on a little New Orleans history.
There's a smorgasbord of Pittsburgh entertainment and culture on podcast apps like Audible, Apple, Google, Spotify, Stitcher, and TuneIn Radio. From business and health to entertainment and sports (and even more sports), you'll find a PGH podcast to fit just about every genre.