Santa Claus, Mrs. Claus, the Hanukkah (Wo)Man, Mr. and Ms. Bingle, the elves — there are two things we all know to be true about each of them.
First, they're determined. You don't get to the top of the holiday season hierarchy without some chutzpah, as our Jewish friends say. Not even a global pandemic is going to put Santa in a corner. In fact, nobody puts Santa in a corner. The holiday season will go on. We will celebrate!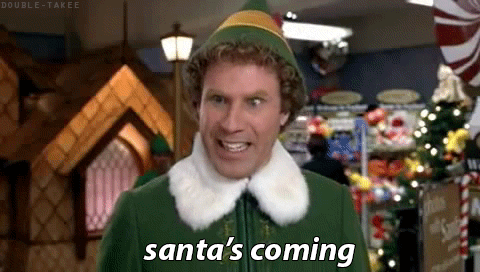 However, the second thing we know about this motley krewe of holiday symbolism is that they are smart. Extremely smart. Few people study science like the Bingles. Ask them if they think climate change is a threat, and you're liable to get a mouthful that could fill up 120 days of Christmas. ("What do you think happens to snow when it gets hot, Chad?!" I recently saw the mister type in a Facebook comment.)
So, yes, the holiday season is upon us. And, because it's New Orleans, that means a smorgasbord of fun events to go along with it. But because we care about each other here in NOLA, it also means those events are going to look a little different this year.
Whether you're donning your mask and keeping your distance, or you're firing up Zoom for something virtual, here's my list of safe-for-COVID-19 holiday fun this season.
View this post on Instagram
Latkes and Babkas
Hanukkah is upon us, and even if you're not Jewish, you've got to respect the holiday's culinary prowess. There's nothing complicated about potato latkes, chocolate babka or sufganiyah, but they're each proof that simple is delicious.
New Orleans' latke game has really grown in the last half-decade. Leading the charge is Marjie's Grille and their Seven Nights of Latkes! (They're closed on Wednesdays, hence seven instead of eight.) Each night is a different variation of latke, ranging from the french onion soup latke (tonight!) to an everything bagel latke to a latke featuring the flavors of their Ethiopian neighbor restaurant, Addis Nola! You can also have a dozen classic latkes delivered to your door with sour cream, apple sauce and other goodies.
Shaya Restaurant on Magazine Street has a four-course Hanukkah meal that includes their fancy potato latkes, matzo ball soup, wagyu brisket and sufganiyot for dessert. You can call or order online anytime after 4 p.m. through December 18, and the holiday dinner will be available for takeaway.
View this post on Instagram
Alon Shaya's restaurant, Saba has an outdoor tent they convert into the L'Chaim Lounge during Hanukkah. You can reserve a spot in the tent via their website and order anything from their amazing regular menu or their assortment of Hanukkah specials! And if you want to learn to make the perfect latkes yourself, Chef Alon is hosting a virtual latke-cooking class this Sunday!
For the first time this year, Stein's Deli is also offering latkes made by Chef Dan Esses. If you want some, you've got to call in advance at 504-527-0771.
Besides latkes, Stein's and Saba also carry another Hanukkah delicacy — chocolate babka! You can also get this eastern European coffee cake-esque dessert from local bakeries such as Compagnon Bakery, Levee Baking Company and Bread to the People (whose babka is made from chocolate created by favorite local shop, Piety & Desire Chocolate).
Compagnon Bakery also has fried sufganiyot, the Hanukkah-time doughnut. As is traditional, it's fried in oil to commemorate the oil that miraculously lasted eight nights — a key part of Hanukkah's origin story.
View this post on Instagram
Hit the Theater
Whether it's the Nutcracker ballet or the play, The Christmas Story, the performing arts have an essential role in our holiday celebrations. Fortunately, our arts organizations have given careful thought about how to safely continue that tradition.
Le Petit Theatre has been presenting their holiday show, A NOLA NOËL at outdoor stages around the Greater New Orleans area. Featuring a cast of local favorites and a repertoire of the Crescent City's most beloved seasonal and holiday songs, A NOLA NOËL tells the story of Marcus, a young boy who finds himself turned around and lost in a strange new city full of unfamiliar customs. (Sounds familiar, right?)You can catch A NOLA NOËL at the Bucktown Marina from Dec. 17-20, or at the Broadside Theatre on Dec. 23, 24 and 26. Both options are outdoors and allow for ample social distancing! Buy your tickets today.
View this post on Instagram
The NOLA Project is releasing their annual (and hilarious) Rated-R Christmas Carol on PodPlay this year. You can listen to this irreverent retelling of the famous Charles Dickens play — as well as four other plays by The NOLA Project — from the comfort of your own home by purchasing access here.
And the Louisiana Philharmonic Orchestra is getting into the act, as well! On December 20, they'll be hosting a special holiday concert that can be viewed online. Your ticket to the virtual performance will also include chocolate from Piety & Desire Chocolates (if you haven't picked up on it yet, their chocolate is everywhere this holiday season).
Who Doesn't Love a Tradition?
For those of us who love our holiday traditions, some New Orleans seasonal staples remain this year (if just a bit altered).
View this post on Instagram
For example, this year is City Park's 35th annual Celebration in the Oaks, which can be enjoyed through Jan. 3! The park's famous oaks are decked out in more than a million twinkling lights. This year visitors can enjoy the 2.25-mile driving tour with some add-on activities in Carousel Gardens. But buy your tickets in advance, because they've been selling out!
There's also a holiday fun-run in Metarie's Lafreniere park tomorrow morning (Dec. 12), and the opportunity to virtually tour six stunning private New Orleans decorated for the holiday season with the Preservation Resource Center on Dec. 12 and 13. If you'd like to safely watch a parade in person, the Chabad House is hosting a Mobile Menorah Parade which will travel down Freret Street (starting at 7037 Freret Street) at 7:30 p.m. on Dec. 12). Attendees should stay socially distant and wear a mask.
The Lafitte Greenway is hosting a fundraiser in partnership with our extraordinary local light show, LUNA Fête to bring the luminary works of ten artists to the Greenway. The show takes place from 5 to 9 p.m. until Dec. 20 (excluding Mondays and Tuesdays). You can learn more here and donate here.
View this post on Instagram
Seasonal Cheer
Part of what makes the holiday season so merry is all the great food and drink! Sazerac House is hosting several virtual classes so you'll be ready to make some of those drinks yourself. The next class is a collaboration with St. James Cheese Company that delves into the perfect holiday-themed cheese and cocktail pairings.

Piety & Desire Chocolate has more than a dozen mouth-watering bonbon flavors at the moment, with several specials for the holidays. It's hard to imagine a better seasonal gift for a loved one or a treat for yourself. They also have a December pop-up on Prytania Street from 11 a.m. to 6 p.m. on Wednesdays through Saturdays. Not only are they selling their chocolates here (and some specially-made gelt for Hanukkah), but they also have mind-blowing drinking chocolate. We're only a third of the way through December, but it's hard to imagine that drink won't be the highlight of my month.

View this post on Instagram
And over near Mid-City, Zony Mash Beer Project just released two Hanukkah "gelt imperial stouts." One is called Lit AF, the other is called Ol' AF, and the graphic on the can appears to be Dan Stein lighting a menorah with a laser beam coming out of his hand. I can't resist.

View this post on Instagram
Chanukkah Fun

Here are a few Hanukkah-specific events to get you through these eight crazy nights!

JNOLA and Tribe are hosting their Virtual Chanukah Gelt Together! Register here and you can even get free cookie mix (!!) so you're ready for the event's GIANT cookie demo with pastry chef Lindsay Morrison. In addition, the online party will feature the adapted game, Truth or Dreidel, as well as a competition to determine who has the best-dressed menorah. All are welcome!
Additionally, Shir Chadash synagogue has a series of great events throughout the holiday. For example, on Saturday, December 12, Rabbi Avi will teach Zoom participants how to make the perfect Old Fashioned. Other online events include — but are not limited to — a virtual discussion on cherishing your inner light through the meaning of Hanukkah and an Ugly Hanukkah sweater night including vodka and latkes!
View this post on Instagram
Finally, if you see this in time for tonight, the Jewish klezmer-playing Panorama Jazz Band has a virtual performance at 6:30 p.m. hosted by the New Orleans Jazz National Historical Park.
Outdoor Holiday Markets

If you're still looking for the perfect gift(s) for your beloved(s), check out one of the city's many outdoor holiday markets:
View this post on Instagram
The Monkey Board is the rooftop bar atop the Troubadour Hotel. On Dec. 19, come up and enjoy their

Fa La La La Local Holiday Popup Market

featuring a dozen local vendors, as well as decorations and holiday cocktails.

Enjoy an

Arts Market

at City Park's Great Lawn near Storyland, featuring more than 50 local vendors. The market will take place on Dec. 19 and 20 from 9 a.m. until 3 p.m.
For the Kids


I get it. Some of you with kids might be yelling, "Who the #%!# is going to outdoor plays and picking up beer releases?!"
Don't worry. There's plenty of safe-from-COVID-19 ways to celebrate for you and your little ones, as well. NOLA Christmas Fest, for example, has a whole host of daily virtual holiday events for kids this year!

View this post on Instagram
And Gentilly Santa will be at Backatown Coffee Parlour on Dec. 13 and 20 from 3:30 to 5 p.m. You should book in advance, and also check out Backatown's Jingle Jangle Tea event, featuring hot chocolate, tea, coffee, sandwiches, and cranberry cream cheese scones. They have outdoor seating, too!
Children are encouraged to bring their favorite doll to meet Santa at the Beauregard-Keyes House for their annual Holiday Tea Party with the Dolls. Only 30 people will be allowed for each outdoor seating, and the events will feature singing, Christmas crafts, and meeting Santa! Buy your ticket ASAP for December 12, or reserve a spot for you and your child at the Royal Sonesta's Santa Pajama Party featuring hot chocolate, warm cider and the opportunity to decorate your own cookies on Dec. 12, 13, 19 and 20!
————–
No matter how you decide to celebrate, make sure to do it like the Bingles: fun, smart and safe! Happy holidays!
WRITER MATT HAINES LIVES IN NEW ORLEANS. FOLLOW HIM FOR ALL THINGS HANUKKAH, HANUKAH, CHANUKKAH, CHANUKAH AND CHRISTMAS AT MATTHAINESWRITES.COM, AND ON FACEBOOK, INSTAGRAM AND TWITTER.