We've been talking about it for months, and now the rest of the nation is catching up: the Popeyes Chicken Sandwich IS delicious.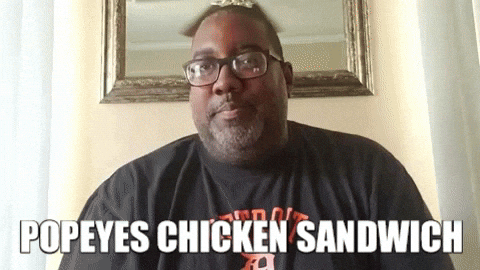 We decided we would all sink our teeth into this glory this afternoon. First things first, if you're ordering from UberEats, DO NOT EXPECT A QUICK TURNAROUND. When we ordered it, the order was expected to take short savory wait of 30 minutes — flash forward to an hour-and-a-half later, no sandwich. But that's because THEY WERE RUNNING OUT!
The sandwich was beau-coop delicious, none of us in the office thought to get a shot of it before we put the crispy goodness in our faces. Look at our IG story today — everyone immediately had it in their mouths.
We can confirm it's better than Chick-fil-A, and while the wait time might be longer now that everyone else knows about it, it's worth it. It's a buttered brioche bun, perfectly fried and juicy chicken breast, pickles and spicy mayo. The result? Delicious. 🤤
So just in case you haven't tried it yet (WHAT?!) or you're waiting in line at the drive thru right now, here's what you need to know:
Get the spicy, mild is childish. Maybe you don't like spicy, or heartburn is an issue. Grab a Tums, it's worth it.
Location MATTERS. Sure, Popeyes tastes different outside of New Orleans, but where you get it in the city also makes a difference. We've tried Read Boulevard and St. Charles Avenue. Trust us, St. Charles is upper echelon chicken sandwich material. Here's another vetted suggestion:


Popeyes chicken sandwich hyper local tasting notes: I've now had this sandwich twice, once from 4238 S. Claiborne and today from 3100 S. Carrollton. Carrollton location was superior – better presentation; bigger, spicier chicken. Both were delicious. @PopeyesChicken pic.twitter.com/Fd1W4koMoy

— Susan Whelan (@nolamaven) August 21, 2019

Variety is the spice of life. Tried the chicken sandwich more than once? Ready for a new experience? We hear adding the blackened ranch sauce or (gasp) red beans and rice is totally worth it. (Editor's Note: Not ALL of us were this brave.)
Yes, we know it's just like the Popeyes snack wrap. But come on, the snack wrap didn't have a buttered brioche bun.
However you chose to get it, just know that it's worth the extra mile on your run, or the wait in line, or the wait on your food delivery service at the right location.