We watched Gordon Ramsay rip Trolley Stop to bits, and we have questions
Really, does anyone order nachos at Trolley Stop?
Wednesday night, New Orleanians gathered around the TV, smartphones in hand, to watch Gordan Ramsay rip 24-hour diner Trolley Stop to bits.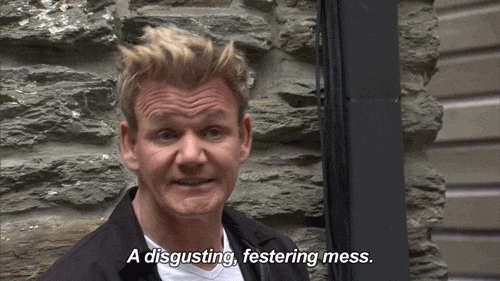 But, like so many of you, we have questions. Sure, we get the issues with management and ownership trickle down. But really, does anyone order nachos at Trolley Stop?
We also think they should have gone around 2 a.m. on a Saturday, when every single table is full, and everyone is too drunk to care that it took an hour to get your food.

(Psst…we went to lunch there after the makeover. Click here to see what happened.)
But we digress. Here's what you guys had to say about the Season 2 premiere of Fox's "24 Hours to Hell and Back" featuring The Trolley Stop:
Have we ever discussed why it's called Trolley Stop in the first place?? In a city where we despise people who call streetcars, trolleys??? IS THIS PLACE OWNED BY TRANSPLANTS?

— "Inspired viewer" – @theadvocateno (@shandy21) January 3, 2019
I haven't stepped food in Trolley Stop since, years ago, a mouse practically ran over my foot when I walked in…and the hostess said, "Oh we see them ALL the time!" #truedamnstory https://t.co/pFwWtZMRso

— DJ Soul Sister (@djsoulsister) January 3, 2019
They sell nachos at Trolley Stop?

— Way Jae (@Wayjay83) January 3, 2019
Now Gordon Ramsay is getting decked out as an Orleans Parish Sheriff's officer to go "undercover" at the Trolley Stop.

"We're ordering traditional diner dishes that any New Orleans restaurant should consider" — wait for it — "a BIG EASY."

— Kevin Allman (@KevinAllman) January 3, 2019
If Gordon Ramsay thinks the Trolley Stop's kitchen is the most disgusting he's ever seen, he should probably stay away from…every other restaurant in New Orleans.

It's the filth that makes it taste good. I thought people knew this.

— Ryan Lips (@ryanlips) January 3, 2019
Ain't nobody going to the Trolley Stop for a gourmet pork chop.

— Clifton Harris (@Clifton611) January 3, 2019
Don't worry, y'all. The Trolley Stop is not on my #BrunchWithAngie list. pic.twitter.com/WS4lJJUU7V

— ✨THE angie dyer✨ (@AngieWorldOrder) January 3, 2019
Gordon Ramsey was supposed to save the Trolley Stop, but he just killed it.

— Ray Price (@RayPriceWLOX) January 3, 2019
#GordonRamsay The biggest issue with The Trolley Stop Cafe remains unaddressed. Why not call it The Streetcar?

— MrClio (@mrclio) January 3, 2019
Watching Gordon Ramsey presentation of the "new" menu items for the Trolley Stop not a single item says New Orleans or late night food.

— Unprovoked Snark Attack (@unprovokedsnark) January 3, 2019
Watching Gordon Ramsey eat moldy nacho cheese at Trolley Stop can only be topped by the Saints winning the Superbowl as best NOLA moment on TV this year

— B̴̙̜̱̣̊͑o̵̰̊̊̔͌͂̑̿̎̀̽b̷̛̙̖͕̰̹̻̱͇̬̀̒͆́͋̈͝ (@bobmurrell) January 3, 2019
Also, the restaurant managed to get in a social media tiff with NOLA.com columnist Jarvis DeBerry, who dined there after the filming. DeBerry chronicled his experience with a "deconstructed po-boy".
Raise your hand if you've ever dreamed of a deconstructed po-boy – on wheat toast no less. https://t.co/xkmTb9f95i

— Jarvis DeBerry (@jarvisdeberry) January 2, 2019
Here was the restaurant's response:
A note from The Trolley Stop: pic.twitter.com/QrX2vZyg1a

— Jarvis DeBerry (@jarvisdeberry) January 2, 2019
Curiously, the 24-hour joint was closed the night the show aired…
They're closed until tomorrow morning 😭

— Candice, right? (@YesICandice) January 3, 2019

Interesting…🤔
Fill your glass at a local winery, bite down on a gourmet biscuit, and cuddle up in a carriage house. Find this and more things to do in Lexington, S.C. on this episode of "Eat Play Stay Greenville."
The downtown lounge is bringing soul to self-care.
Coolinary is running from Aug. 1 to 31 and over 80 restaurants are participating. Here are five of our favorites that are offering something special this year.
Our faithful four-legged friends rode out quarantine nestled next us, from the halcyon days of sourdough starters through the long, dark, interminable cold of Pittsburgh winter. And now that we're vaccinated, the plan is to leave them, home alone, while we sip IPAs in the sun? Better yet, take Fido along: here's a list of Pittsburgh breweries with dog-friendly outdoor spaces.
This popular food truck now has a home on Franklin Avenue.