Wednesday night, New Orleans Twitter gathered 'round to watch the season 2 premiere of "24 Hours to Hell and Back," featuring St. Charles Avenue landmark, The Trolley Stop Cafe.
In typical Gordon Ramsay fashion, he shredded the restaurant to bits, exposing the diner's dirty dishes: moldy cheese (for nachos that nobody orders here), handling of raw meat, and a really, really gross grill. By the end of it, we wondered if the new kitchen equipment was just an easier fix than having to clean the gunk off the old stuff. The social media comments were hilarious.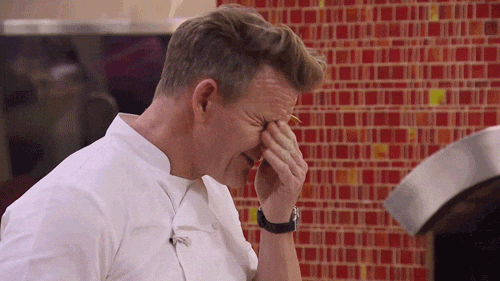 Ignoring the first half of the episode's warnings of clear health violations, we knew we had to try it. It's been touched by the hands of a Michelin-star chef, and the most we can remember about nights at Trolley Stop are highly blurred by a mix of Hennessy and vodka, depending on what day year it was.
When you walk up, there's new signage on the outside and a gorgeous mural by local artist Ceaux Young. We're definitely here for Ramsay using local artists for the makeover.
Decor-wise, it was better. By the windows are long benches, and it kind of gives you the feel of actually being on a streetcar.
The rumors are true, the menu is significantly reduced to one page, front and back. One thing that definitely hasn't changed about the joint is the wittiness of the waitstaff. Our waiter was very attentive but with the attitude of your run-of-the mill local. Maybe the term is "playfully aggressive." We enjoyed him, but maybe others wouldn't.
Our table had the fried shrimp and catfish combo plate, the grilled pork chops and the chicken and waffles. Hands down, the winner at the table was the chicken and waffles. The chicken was seasoned well, and the waffle wasn't bad. The fried shrimp and catfish were OK. The batter was a little on the bland side, honestly.
Then, there were the pork chops. The first time, the chops weren't cooked through. (A flashback to the episode on Wednesday night) However, in their defense, our waiter brought back a plate of correctly cooked chops in less than five minutes.
So, the final verdict: it's not anything fabulous. It doesn't have the same greasy spoon vibe for sure, but it wasn't as bad as it was.
Also, important note: it's not open 24-hours anymore. So, if being drunk and staggering in before dawn would have made this dining experience any better, well, the world may never know. 🤷