Food it up, it's Thanksgiving month!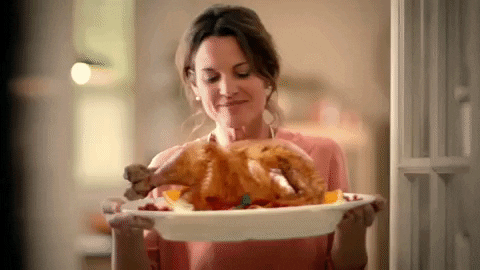 Whatever diet you thought you were going on, this probably isn't the week to start it. We've got food events going on in town everyday this weekend, and a tattoo convention if you need a break from chowing down.
Very Local NOLA's Friendsgiving
Don't want to worry about cooking to impress your friends or cleaning up the house after? No problem, we've got it covered. Chopped Champion Chef Syrena Johnson and Culinary Brain Trust member Theaudric Davis will be curating a three course meal Saturday, Nov. 10, with drinks and music included! Reservations required and seats are going fast! If you want to chow down with our besties, get them NOW!
Getting there
800 N Claiborne Ave, New Orleans, LA 70116, USA
New Orleans Tattoo Arts Convention

Villain Arts is holding its inaugural tattoo convention Nov. 9-11 at the Morial Convention Center, boasting tons of special guests and feature tattoo artists visiting the city. Chris Shockley, Dane Smith and Kyle Dunbar are just a few of the many Ink Master contestants coming, as well as the members of Black Ink Crew on VH1. To get a tattoo at the show, you can attend and see who is available for walk up clients or you can make an appointment with an artist beforehand. Tickets are $20 a day or $40 for a weekend pass.
Oak Street Po-Boy Fest
Most Sundays are kind of lazy around here, but not Po-Boy Fest Sunday! Nov. 11 is the one day you've got 60 different kinds of po-boys in one place, and honestly, it can be overwhelming. The fest takes up seven blocks of Oak Street, and there are more than 60 different kinds of po-boys. Pro-tip: bring an umbrella and your good walking shoes. Click here to check out our guide to Oak Street Po-boy Fest.
Oak Street Po-Boy Festival
Getting there
8100-8800 Oak St, New Orleans, LA 70118, USA
Hours
Mon-Sat Closed
Sun 10 AM – 6 PM
Boudin, Bourbon and Beer Fest
Chefs from across the country are heading to New Orleans for this one-night festival on Friday, Nov. 9 in Champions Square. More than 70-boudin inspired dishes will be served, including boudin tostadas, a boudin stuffed chicken wing and boudin egg rolls.
The fest is part of the Emeril Lagasse Foundation's two-night signature fundraiser, and the proceeds go to youth mentorship opportunities using culinary arts. Tickets to the Nov. 9 event at Campions Square are $130 in advance and $150 at the door, but include drinks and food for the night. Click here for more information.
Getting there
Lasalle St, New Orleans, LA 70112, USA