It's the beginning of August already?! You know what that means: back to school, heavy traffic in the mornings 🙄, and dare we say it…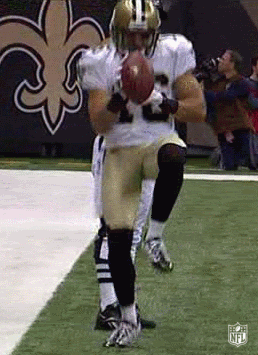 Oh, football season, is that you?!
Here are our weekend picks to help you get ready for the end of summer:
Fri. Aug. 2, 2019
What: Satchmo Summerfest
When: Aug. 2 – Aug. 4
Where: New Orleans Jazz Museum
Price: $6
Satchmo Summerfest began in 2001 as a way to celebrate Louis Armstrong's 100th birthday, but now it's grown into a three-day festival featuring more than 30 acts and food vendors. The fest also includes local traditions like a Jazz Mass at St. Augustine Catholic Church in the Treme, followed by a second line from the church to the festival. Needs the details on where to park, pee and what to pack? Click here for more information on the fest, like acts and hours.
What: COOLinary
When: Entire month of August
Where: Various restaurants
Price: $39 or less
So technically COOLinary starts on Thursday (Aug. 1), but for the entire month of August more than 40 restaurants in the city offer special prix-fixe menus. That means you can go restaurant hopping on a budget! Two-course lunches are $20 or less, and three-course dinners and brunches top at $39. To see the restaurants participating and their menus, click here.
Sat. Aug. 3, 2019
What: V. Fresh Pool Party Yoga
When: 10:30 a.m. – 11:30 a.m.
Where: The Drifter Hotel
Price: $15
Need to switch up your yoga routine? This yoga session is followed immediately after with dranks 🍸 and all day pool access. All attendees will get koozies, chapstick and Mural Margarita samples, and 15 lucky yogi's can win tote bags. Click here for more information.
View this post on Instagram
What: Hancock Whitney White Linen Night
When: 5:30 – 9:30 p.m.
Where: Julia Street
Price: Varies
This annual celebration showcases galleries, live music and the arts, and offers Julia Street and the Arts District a night to strut their stuff. There are parties all over the street: the block party is free and open to the public, but different galleries will have paid admissions to attend. Click here to find out more about the different events being held during White Linen Night.
Sun. Aug. 4, 2019
What: Sunday Swim Society
When: 11 a.m.
Where: NOPSI Hotel
Price: Free
Usually open only to hotel guests, the gorgeous pool at Above the Grid bar is open to locals every Sunday from 11 a.m. – 8 p.m. A live DJ will be at the pool from 3 p.m. – 6 p.m. Click here for more information.
What: Black & Gold Fan Fest
When: 5 p.m – 6:30 p.m.
Where: Tulane University Yulman Stadium
Price: Free
The Saints are inviting all fans to a fan fest at Tulane Stadium prior to their training camp practice at 7 p.m. Fans can watch the Saints practice after the fest, or get their gear signed by players during an autograph session. Click here for details on the fest and information on what you can bring to the session.