Tucked into a cozy space on St. Claude Avenue, at an unassuming corner that holds a lot of history, is a restaurant where music and food collide. Luna Libre is a new Bywater spot that sits somewhere at the crossroads of beautiful art gallery and exotic dining experience. The magic of this restaurant, with a name that translates to "free moon," envelops you as soon as you walk through the door.
'Mexican cuisine with a Southern twist'
The eatery is the brainchild of Rhonda Findley — owner of popular gift boutique Funrock'n & Pop City, Arkansas native and New Orleans resident for the past 25 years. Last month, she opened this Ark-La-Tex restaurant at 3600 St. Claude Avenue; a welcome addition to the developing Bywater area, in a building that Findley has owned since Hurricane Katrina and that served as the former home of a TV repair shop, a barbershop and, most recently, Shake Sugary.
She describes Ark-La-Tex cuisine as, "Mexican cuisine with a Southern twist."
"It's not exactly traditional Southern food, but it touches on those elements," she said,
The food at Luna Libre is inspired, in part, by the Mexican restaurants in Rose City, Arkansas, that serve up Arkansas-influenced, Mexican-inspired comfort food.
"It's like '60s and '70s Southern mom cooking," Findley said.
Findley has an extensive history in the restaurant and food business. She formerly worked for Emeril Lagasse, waiting tables in his restaurant and writing his blog. She has also contributed to cookbooks with chef Kevin Belton, such as "New Orleans Celebrations", "New Orleans Kitchen" and "Big Flavors of New Orleans." Now, she's excited to bring a taste of her roots to her own neighborhood.
Findley first renovated the building with the idea of opening a coffee shop in the space. After discovering that this part of the city might be craving something a bit different, the Ark-La-Tex food concept, on which Findley was raised, began to take shape.
"St. Claude needs more quality businesses and options," she said. "In New Orleans, there's nothing more joyful and relevant than food. I wanted to bring that joy in a package that no one has seen before."
An affordable experience
Findley wants the experience at Luna Libre to be memorable, as if you're dining with family. The restaurant is child-friendly and pets are welcome on the back patio. The restaurant concept is simple — Findley wrote all of the recipes, and the restaurant's chef and fellow Arkansas native, Da'mon Gooden, prepares them with his own twist. She makes it a point to shop local, buying much of her meat from local butcher Shank Charcuterie. All of the products she uses are organic; the meat is Halal and she uses cage-free eggs in her breakfast tacos. Findley said one of her goals is for Luna Libre to be a spot where people can come and enjoy good food, good music and a good atmosphere, all at a reasonable price; she doesn't believe an enjoyable experience has to be expensive.
"We want to give quality service and food at a good price. We want people to feel our love and share our joy," she explained.
What we ate
Walking into Luna Libre feels as if you're walking into a friendly living room; the seating is as unconventional as the menu, which changes daily. On this visit, I started with an order of Stewart's cheese dip ($9) — a combination of smooth melted cheese, meat, tomatoes, and guacamole that Findley grew up on. She promised that it would be a "bowl-licker" and, when paired with warm tortilla chips, she wasn't kidding.
Next, I dug into the chicken enchilada verde ($12), a cheesy enchilada topped with crema. The flavors were incredible, and if the goal is classic American-Mexican comfort food, then this dish didn't disappoint.
Next up was tacos — now, I love tacos, so this part had me especially excited. I dug into a sampler of the Ahi-jerk taco with mango relish; the Ark-Americana taco- a crunchy taco served with meat, lettuce, tomato, onion, and crema; a carnitas taco; and a chicken-tinga taco. The Ahi-jerk taco is perfect if you like a little spice. This taco definitely packed a bit of a punch, but the spice was cut nicely with the addition of the mango relish.
The Ark-Americana taco was a nice twist on the classic crunchy taco- flavorful meat, fresh veggies and a shell that didn't get soggy under the weight of all of its contents. The carnitas taco might have been my favorite- house-made carnitas made from pork shoulder and cooked slowly. The meat was juicy and flavorful and didn't need any "extras" to make it special. The chicken tinga taco was crafted with Halal chicken and had a smoky, sweet flavor that was very distinct. Although I didn't have a chance to sample it, Findley also offers vegetarian taco options with mirliton and cauliflower.
If you're looking for a tasty cocktail, Luna Libre's flaming margarita is a must; handcrafted and made with all fresh ingredients, you can taste the freshness, and it isn't the overwhelming sugar bomb that you get from margaritas at some other restaurants.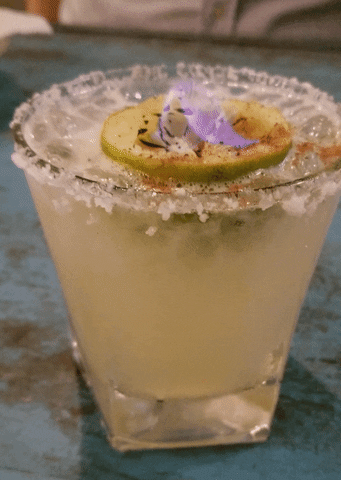 Luna Libre is more than a dinner spot; Findley offers lives music on what she has dubbed "Taco Tunesdays", featuring a rotating salon of local musicians such as Phil DeGruy, David Bandrowski, Luke Allen and Alex McMurray, and curated by Jonathan Freilich. The setting is intimate, with strangers often sharing tables during performances, and I can see "Tunesdays" becoming a must-attend evening for music lovers- local and visiting alike.
While she doesn't necessarily want her restaurant to be known as a music joint, Findley knows having live music is an important part of the tapestry of the Bywater neighborhood.
"In New Orleans, we know how music is culturally relevant," she said.
Luna Libre serves up dinner from 5 to 9 p.m., Tuesday through Saturday. On Saturdays and Sundays, breakfast tacos are served from 8 a.m. to noon.
The restaurant will be hosting a family-friendly New Year's Eve music event from 7 to 10 p.m.
Price points: Rotating menu, $10 to $15